Obama Sends Romney Back Into the Fetal Position With Video on the Ryan Budget
Obama Sends Romney Back Into the Fetal Position With Video on the Ryan Budget
By: Jason Easley
August 11th, 2012
Mitt Romney's Paul Ryan bounce was over before it started as the Obama campaign released a new video hitting the Republican ticket hard on the Ryan budget.
Here's the video: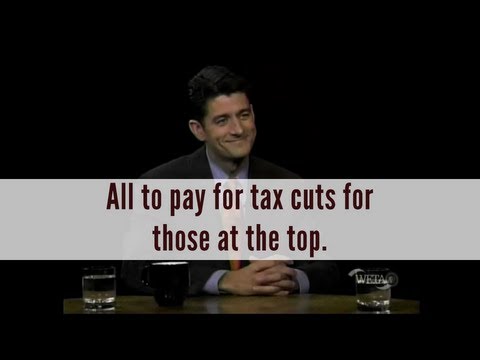 Obama campaign manager Jim Messina also put out a statement,

In naming Congressman Paul Ryan, Mitt Romney has chosen a leader of the House Republicans who shares his commitment to the flawed theory that new budget-busting tax cuts for the wealthy, while placing greater burdens on the middle class and seniors, will somehow deliver a stronger economy. The architect of the radical Republican House budget, Ryan, like Romney, proposed an additional $250,000 tax cut for millionaires, and deep cuts in education from Head Start to college aid.

His plan also would end Medicare as we know it by turning it into a voucher system, shifting thousands of dollars in health care costs to seniors. As a member of Congress, Ryan rubber-stamped the reckless Bush economic policies that exploded our deficit and crashed our economy. Now the Romney-Ryan ticket would take us back by repeating the same, catastrophic mistakes.
The interesting thing about Romney and Ryan's speeches this morning is that they both tried to avoid talking about what Paul Ryan is famous for. They didn't specifically mention the Ryan budget. They talked about preserving Medicare, while hoping that voters wouldn't realize that they plan to save Medicare by killing it and turning it into a voucher system.
The Obama video and Messina's statement both use Paul Ryan to tie Romney to the unpopular House, the policies of George W. Bush, the war on women, and privatizing Medicare and Social Security. It also reinforces the Obama campaign's messages about Romney's stance on the middle class, and his plan to give tax cuts for the wealthy while raising taxes on everyone else.
Instead of separating their candidate from the very unpopular congressional Republicans, the Romney campaign married them. The Romney campaign gave Democrats a message to deliver to those voters who are concerned about the Republican desire to gut Social Security and Medicare. The Ryan budget might be even more well known than Paul Ryan himself, so it a ridiculous for the Romney campaign to try to run away from the it.
Unbelievably Romney has selected a running who can't talk about what he is most famous for or else he will push Independents, seniors, and everybody but the wealthy towards Obama.
Read More: http://www.politicususa.com/obama-send-romney-feta...