Obama Regime Declares War on (Conservative) Moms
RUSH: What a great teachable moment. What a fabulously wonderful and welcome teachable moment about the hostility on the left for average, ordinary Americans. It's just wonderful. It's such a great opportunity. And we're gonna explore it as deeply as necessary to make the point to you. In addition, everybody is shocked and surprised the unemployment number is up, unexpectedly, new claims for unemployment. The media is laughing now. Even CBS is laughing at Obama and his focus on the
Buffett Rule
. Dana Milbank is laughing. Ezra Klein: George Bush tax cuts worked. The Democrats actually admit this. All we're talking about is raising rates on the top 2%. Yeah, yeah, Washington Post, Ezra Klein, the new wunderkind.
Yeah, and we got the George Zimmerman arrest to discuss. A lot of pressure, by the way, in Florida on this. What's the name of the law down there? Stand Your Ground. I think we need to change the name, 'cause they're trying to get rid of it, when in fact it's not to blame for anything, but how about changing the name of the law to Resist We Much? Instead of Stand Your Ground, Resist We Much. You'd have to pay Sharpton a royalty, but I'm sure that Eric Holder could see to that. The Resist We Much law.
What? What's the question? I'll get into that, I'm gonna get into that in just a second. I've gotta do this Hilary Rosen stuff here, because this is big, and because it's such a teachable moment. This is such an illustration of who these people are, the left. It's such an illustration of the phoniness of feminism. It is an illustration of the absolute hostility that the left has for women who stay at home. I thought this issue of stay-at-home moms and so forth, remember the original objective of feminism was equal pay for equal work, and now we find out in the White House that women are underpaid. Women make 18% less than men make in the Obama White House. That was the original organizing moment, supposedly, about feminism.
Now we find out that there is genuine hostility for women who do not work, who only stay at home and raise their families. So the Obama administration has just effectively, whether they know it or not, launched a War on Motherhood via Hilary Rosen on CNN last night. Obama and the Democrats are not content to just divide men and women. They want to go deeper and divide working mothers from stay-at-home mothers, and they want to attach the virtue to working mothers and assign no virtue to stay-at-home moms.
Now, you talk to most women, even those who consider themselves feminists and got caught up this way back in the seventies, they will tell you that they thought that was a battle that they fought and won and ended years ago.
But I, El Rushbo, have known that there's always been hostility for women who don't go to work. They are letting down the sisterhood. This has been one of my main contentions throughout the entire history of this program. But in one fell swoop, Hilary Rosen has reopened this wound and is allowing everybody to see in that the real hostility -- and how is this gonna play with all those precious independents? The real hostility is for women who stay at home. And make no mistake: Hilary Rosen was hostile. She was hostile in her original comment and she was hostile as she ratcheted it up after the original comments.
Go to the audio sound bites. Last night on CNN Anderson Cooper. The guest was Hilary Rosen, and they're talking about Romney's appeal to women and this War on Women which, by the way, the Democrats are now saying that they never called it that. The Democrats are saying it's a Republican term. We never called it the War on Women. They are sending out fundraising appeals with the War on Women name in them. Pelosi has sent one out. They're all over the place. Obama refused to condemn the term War on Women when asked about it. They're literally denying what they are saying. So here is Hilary Rosen, she's upset that Romney cited his wife as someone he listens to on economic problems faced by women.
ROSEN: What you have is Mitt Romney running around the country saying, "Well, you know, my wife tells me that what women really care about are economic issues. And when I listen to my wife, that's what I'm hearing." Guess what? His wife has actually never worked a day in her life. She's never really dealt with the kinds of economic issues that a majority of the women in this country are facing in terms of how do we feed our kids, how do we send them to school, and why we worry about their future. There's something much more fundamental about Mitt Romney. He just seems so old-fashioned when it comes to women. And I think that comes across. And I think that that's going to hurt him over the long term. He just doesn't really see us as equal.
RUSH: Ann Romney has had breast cancer. Ann Romney has MS, multiple sclerosis. She has raised five boys while undergoing breast cancer treatment and being treated for multiple sclerosis. Hilary Rosen's complaint is that she doesn't know what life is really like for real women because she doesn't have any economic problems. So she can't relate to women who do have economic problems and therefore it is totally erroneous for Romney to hide behind her skirt, which she says later. Romney should stop hiding behind her skirt because she's never worked a day in her life. She doesn't know what she's talking about and Romney doesn't know what he's talking about. They don't have any clue what life is really like.
Now, these are the people, the same people, folks, you'll remember who hammered Sarah Palin for daring to go to work when she had a Down syndrome child. These are the same people that hammered Sarah Palin for daring to go to work when she had so many kids to raise. You couldn't do both if you're a Republican. You couldn't do both. You couldn't have it all if you're a conservative. If you have a lot of kids and one that's special needs, you don't go to work. If you do, you are not exhibiting proper responsibility. If you're Ann Romney and you have five kids and you have cancer and multiple sclerosis, and all you do is raise your kids, you have no way of understanding what real economic hardship is, and therefore it's asinine for you to tell your husband about the economic plight of women and it's stupid for your husband to actually listen to you. This is what Hilary Rosen was saying, and she continued to say.
Since this remark, Axelrod of the campaign, Messina of the Obama campaign, have distanced themselves. "She doesn't work for us. She works over at the DNC, doesn't work for us." She's visited the White House 36 times since Obama was inaugurated. That averages out to once a month. She has seen Obama personally three or four of those 35 times. She works with Anita Dunn. She is a PR specialist, by the way, that's her title. She used to be a lobbyist for the recording industry, by the way. She and Anita Dunn were behind the all of the PR moves that Sandra Fluke engaged in. These are the two architects, Hilary Rosen and Anita Dunn. The Democrats, the Obama campaign, is trying to say, "Whoa, she has nothing to do with us. She works for the DNC." Yeah, she's meeting with Obama. This is Obama. This is the campaign. This is the reelect bunch. This is all of them.
It doesn't matter where they are stationed. It doesn't matter where they're assigned. They're all working for the reelection of Obama and the destruction of any opponent who gets in their way. But they've gone after the wrong woman here. Ann Romney is not disliked. Ann Romney is not unlikable. Ann Romney isn't controversial. Ann Romney is not telling anybody else how to live. Ann Romney knows full well what life in America is all about. Ann Romney's a role model. I don't care what you think of Mitt. It's not the point here. She is a role model for living and trying to live a fulfilling life. And the economics here -- it's so perfect. She's apparently wealthy, so she has no way of knowing what life is really like.
Do you think her kids are running around with silver spoons? Do you think they've been taught to work? Do you think her kids are facing economic reality? Do you think the Romneys are giving their kids everything, setting them up for life without ever having to work? Do you think the Romneys don't know what life is like in America? You don't think they don't understand hardships? Everybody understands it. Even Warren Buffett's hard up. He's owes the IRS a billion dollars, is resisting paying it. But this is who they are. This is exactly how they think. This is how they feel. They are angry, and they are hostile, and they are not compassionate, they are not nice, they have no manners. In the basics of human existence, they are reprobates.
They don't understand politeness. They are rude. They are crude. They are thoughtless. They are selfish. They are mean. And it is all come out in one display in this one appearance, Hilary Rosen on CNN. This morning on CNN's Newsroom, Carol Costello spoke with Hilary Rosen about her remarks about Ann Romney that she'd "never worked a day in her life." Costello said, "You said Ann Romney never worked a day in her life. This is a woman who suffered breast cancer, has MS, raised five boys. That's hard work".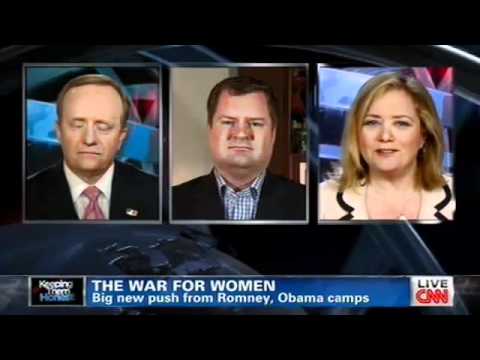 Obama (in 2008) on attacks on Michelle!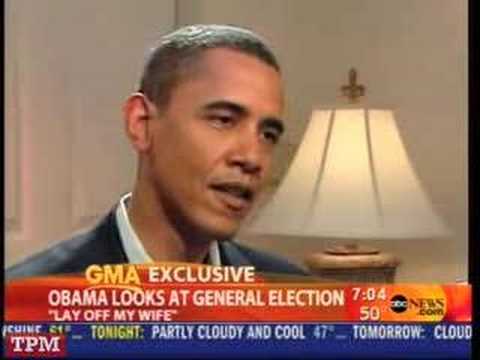 Read more:
http://www.rushlimbaugh.com/daily/2012/04/12/obama_regime_dec...


From:
http://www.rushlimbaugh.com