Obama and the Russians planning a coup?
Excerpt:
Let's pray this story was an elaborate hoax. But ever since the story
broke about the U.S. and Russian military exercises here in the United
States, I've been trying to understand how Congress and the American
people are not up in arms? Surely this is not just an act of stupidity.
If true we are experiencing an intolerable act of treason. It is a dress
rehearsal for a "Red Dawn."
An open mike on Red Dawn?
Obama's words,
I'll have more flexibility after the next election.
should frighten every American. Only an idiot or Quisling would allow
such exercise at strategies location. Be surely Mr. Obama is no idiot,
and anyone believing as such is a fool or living in denial.
A Drastic Scenario: Inside Obama's Mind
It's like a bad dream. Is Mr. Obama is saying to his Russian comrades,
In case I'm not elected or unable to steal the election,
let me show you the strengths and weaknesses at two critical national
security facilities. We can disguise our plan by calling it an
anti-terrorist exercise.
He thereby lets Russian Airborne troops and intelligent agents study
the facilities in what he and they can describe as a mock attack at our
CIA facility. Americans are too stupid to realize the true purpose of
this exercise.
These facilities house our main computer in Buffdale, UT, and our
main computer facility in Denver, CO. An elite unit will be able to
control the main runways and terminal at the Denver International
Airport. This would cut the United States in two parts and give our
American enemies an airfield large enough to bring in heavy equipment
from their satellites, Venezuela and Cuba.
Evidence for the Red Dawn scenario
Obama told Dmitri Medvedev:
After the election I'll have more flexibility.
Barack H. Obama. Photo: Pete Souza, January 13, 2009
What could be more revealing about his goal of transformation to a
communist state? His current policies are destroying what he considers a
state of capitalist pigs. Day by day he weakens our nation and aids and
abets those that would overthrow our country by force.
Obama has gutted the United States naval force while the Chinese
Navy, jointly with our Russian brothers, prepare and display a show of
strength.
Nor has Obama neglected his Islamic brothers. They have sworn to
destroy the great Satan and little Satan, Israel. Obama repeatedly
insults our allies and ties the hands of our ally Israel. At the same
time he invites the so-called religion of peace. the Muslin Brotherhood.
to the White House. So where does this man's loyalty lie? What were
your words from Audacity of Hope, Barack "Hessian" Obama?
I will stand with the Muslims should the political winds shift in an ugly direction.
Does he, too, await the day to eliminate the infidels?
See also here, and read the Declaration of Independence.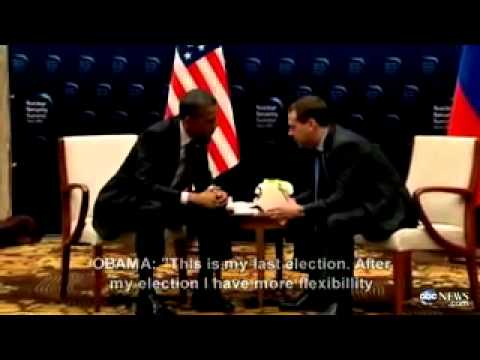 Read More: http://www.conservativenewsandviews.com/2012/05/01...
Add a comment above