Nobel Peace Prize: Is the Norwegian Nobel Committee's Award Meaningful?
President Barrack Obama has won the 2009 Nobel Peace Prize on Friday for his "extraordinary efforts to strengthen international diplomacy and cooperation between peoples." Congratulations to the president and America.
But the Norwegian Nobel Committee has shocked everyone by giving the award to the president after just 9 months in office. I question the value of the award and how this cheapens it. Whether or not President Obama will deserve the award for his future accomplishments we don't know -- but to award it for his past 9 months? President Barack Obama himself doesn't feel like he deserved the Nobel Peace Prize:
I do not view it as a recognition of my own accomplishments...To be honest, I do not feel that I deserve to be in the company of so many of the transformative figures who have been honored by this prize, men and women who've inspired me and inspired the entire world through their courageous pursuit of peace.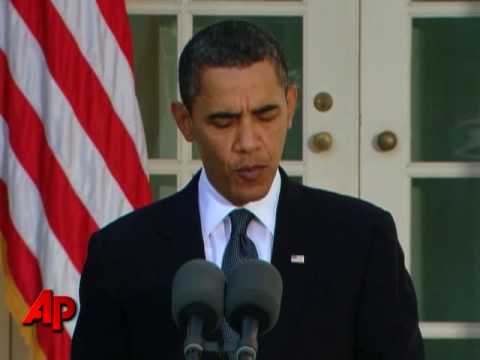 The Committee described a criteria in that probably every recent American president held -- "Dialog and negotiations are preferred as instruments for resolving even the most difficult international conflicts," and a world free of nuclear arms.
This would apply to hawkish presidents like Ronald W Reagan, who did more to reduce nuclear arms than any president and wanted a world free of nukes -- but President Reagan did not win the award.
Instead, the list of honorees includes such unworthy people. The list includes:
* 1994 Yassir Arafat leader of terrorist organization PLO
1997 International Campaign to Ban Landmines despite landmines use as a defensive weapon to prevent war
* 2001 United Nations and Kofi Anan despite doing nothing to end or recognize the genocide in the Sudan
* 2002 President Jimmy Carter despite his anti-Semitic rhetoric and appeasing terrorist organizations
* 2005 Mohamed ElBaradei who has let Iran develop a nuclear weapons program
* 2007 Al Gore and the Intergovernmental Panel on Climate Change for Global Warming alarmism
The president does join a long list of deserving people, such as the Dali Lama, Mother Teresa, Menachem Begin, Mohamed Anwar Al-Sadat, Henry A. Kissinger and others. I hope the president lives up to the awards legacy and criteria -- but honoring him this early in his term weakens the award.
Add a comment above