MOLESTER BEATEN TO DEATH BY TEXAS DAD IDENTIFIED, DISTURBING NEW DETAILS RELEASED
The man who was beaten to death by a Texas dad for allegedly molesting his 5-year-old daughter has been identified by authorities.
Previous news reports had identified the girl as a 4-year-old, but her age was corrected by Lavaca County authorities in a press release Friday, obtained by the Victoria Advocate.
Lavaca County Sheriff Micah Harmon said that the 23-year-old father killed Jesus Mora Flores, 47, from Gonzales, Texas. The sheriff said Flores was not in the U.S. illegally and was in possession of a green card also known as a permanent resident card. Investigators have been working with Mexican Consulate officials to locate his family, the news release revealed.
Lavaca County Sheriff Micah Harmon. (Source: co.lavaca.tx.us)
Harmon previously indicated that it is unlikely that the father, who has not been identified to protect his daughter, will face any criminal charges. It seems even less likely in light of some new details that have been released.
The June 9 killing reportedly occurred in Mt. Olive near a barn where some horses were being kept. The adults were shoeing a horse while the little girl and her brother went to feed chickens, KPRC in Houston reports.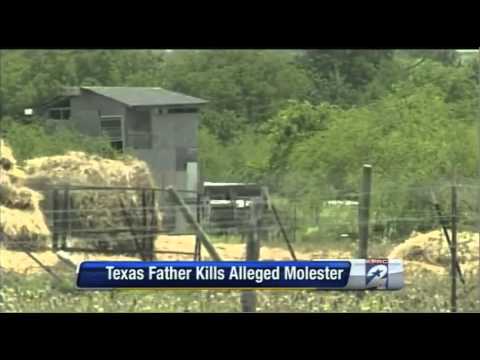 Read More: http://www.theblaze.com/stories/molester-beaten-to...
More polls by doofiegirl POTL~PWCM~JLA