Mitt Romney heckled while getting pizza: Is it time to let "Crate gate" Go?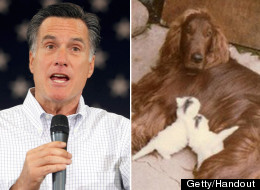 Republican presidential candidate Mitt
Romney can't even grab some pizzas without being reminded of how he
treated his dog nearly 30 years ago.
As Romney exited Joe's Pizza carrying a stack of pizza boxes in New
York City on Tuesday, somebody on the sidewalk shouted, "Just don't put
'em on the roof of the car," according to a tweet from Reuters reporter Sam Youngman.
In 1983, the Romneys embarked on a 12-hour drive from Massachusetts
to Canada. Since there wasn't enough room in the car for the family dog,
Seamus, Romney put the Irish Setter in a crate fastened to the roof of
the car. Though Romney has said Seamus loved roof rides, during this
particular trip the dog suffered a bout of diarrhea that forced Romney
to pull over and hose off the car.
Look, whether you agree with his decision regarding Seamus, it was nearly 30 years ago. Don't you think its time to let it go? Don't we as a country have more important things to worry about? Why can't we stay focused on ISSUES rather than silly things , like what Romney did with his dog, or when Obama ate dog, or personal lives, or how much money Ann Romney has? NONE of that MATTERS. What matters is who is best for our country.
Lets Let sleeping dogs lie. :)
Read More: http://www.huffingtonpost.com/2012/05/01/mitt-romn...
Add a comment above
More polls by Assassin~ Badass Buzz Guru