Mitt Romney Calls Corporations 'People': Do You Think Big Business Helps Us?
Republican presidential candidates
, they say the darndest things.
Former Massachusetts governor
Mitt Romney
, the current GOP frontrunner (until this weekend anyway, when Texas Governor
Rick Perry
officially gets in the ring), served up a doozy this week at the Iowa State Fair.
It's the kind of "read my lips...no new taxes" statement that likely had President Obama and his campaign staff falling over in their chairs.
Facing an unusually combative audience, which some speculated was filled with either very liberal Republican hecklers or some Democratic plants, Romney said "We have to make sure that the promises we make - and Social Security, Medicaid, and Medicare - are promises we can keep. And there are various ways of doing that. One is, we could raise taxes on people."
Fair enough. Then an audience member shouted "corporations!"
And Romney responded, "
Corporations are people
, my friend. We can raise taxes on," at which point the heckler yelled "No, they're not!"
Romney would not be deterred, adding, "Of course they are. Everything corporations earn also goes to people." That elicited some chuckles from the crowd, miffing Romney, who asked, "Where do you think it goes?" Well, into their pockets, his rival responded.
"Whose pockets? Whose pockets? People's pockets! Human beings, my friend. So number one, you can raise taxes. That's not the approach that I would take," Romney said confidently.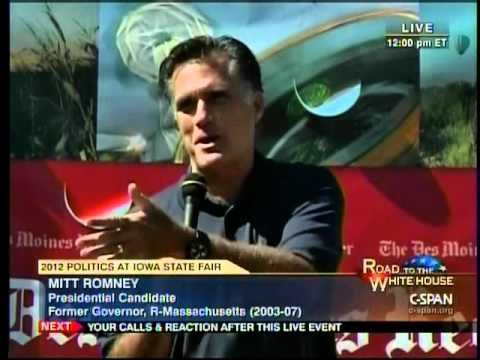 As Gawker pointed out, technically, Romney is right, corporations are legally organized as "people," with the same legal protections as individuals. But, as the site argued, "Mitt Romney doesn't need to be giving corporations big bear hugs at the Iowa State Fair right now while lecturing the simple folk about America's need to 'reform' Medicare and Social Security."

At least one rival, former Obama appointee Jon Huntsman, openly mocked Romney, tweeting, "Was American Pad & Paper Company a person/friend?," referring to one of the many corporations Romney made a lot of money off of ($100 million in fact) while working at Bain Capital while slowly letting it wither.
Add a comment above