Lockerbie terrorist 'dying' again. Is he faking?
Meet
Abdelbaset al-Megrahi.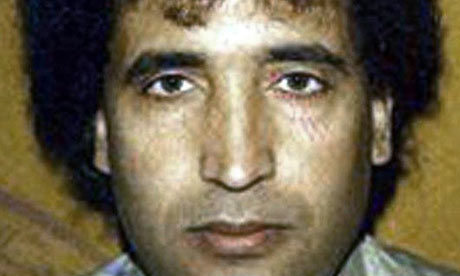 He murdered 270 men, women and children
by detonating a bomb on an airliner over Lockerbie, Scotland.
Now he claims to be sick to avoid being put in prison but he used this same ploy to be released from prison in the first place:
'When Scottish authorities granted a so-called compassionate release to convicted bomber Abdelbaset al-Megrahi, the Libyan spy held responsible for blowing Pan Am Flight 103 out of the sky over the town of Lockerbie and killing 270 people in December 1988, he was supposed to be
dead of prostate cancer
within three months.
Two years later, the 59-year-old Megrahi—who was flown back to Libya in one of Muammar Gaddafi's private jets and given a triumphal welcome home by the leader himself—is still alive and living in a palatial villa in Tripoli.
But now he's apparently doing as poorly medically as his embattled patron, Gaddafi, is faring politically, if you accept recent news accounts. Megrahi seems to be in a coma, on oxygen and an IV drip, and near death..."




Is he faking?
Read More: http://www.thedailybeast.com/articles/2011/08/31/l...
Add a comment above