LIAR, LIAR ELIZABETH WARREN'S ON FIRE! HER REDEMPTION'S BUT A WILDFIRE! SNIFF!!!
Tough Scott Brown ad hits Warren on Obama's 'you didn't build that' remark
By Justin Sink
-
07/23/12 08:59 AM ET
"When you do well, everyone else does well," Brown said. "And I promise you this, I will never demonize you as business leaders and business owners for the work you do or the opportunities you create, because I think we should not be blaming you — we should be thanking you." Sen Scott Brown (R-Ma)
SQUAW LIAWATHA SHOULD BE THROWN off the ticket for her phony heritage
hetjaar
Elizabeth Warren's an elitist fraud. Proven Warren purchased & assisted purchase of Multiple Foreclosed homes to enrich herself and family. Proven Warren's ancestors death marched Cherokee's to OK, then Warren claims NOT 1 but 2 Native Americans WITH NO PROOF. Given positions by Socialist Elites @ Rutgers, Texas, Penn, Harvard et al. Multiple times committed Felony to check box Native American, committed Felony to support Federal Diversity Reports, then drops written record of Native American.
mathewsjw
1 month ago

Um, no. Never. She's a fraud and a liar. rootedsorrow

"Elizabeth Warren's "high cheekbones" fraud draws back the curtain look into the gears and levers of our national race industry. The real story is not that the multimillionaire liberal (and one-percenter) Warren fabricated a Cherokee identity for over a decade (to the delight of her quota-thirsty universities), but rather the notion that if a pink blond at Harvard can get away with faking a career-enhancing minority identity, then anyone, anywhere, can—or rather often has."
--VictorDavisHanson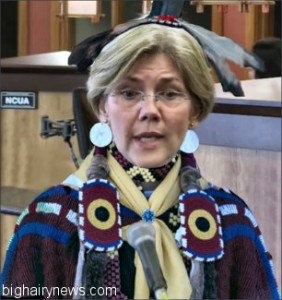 Add a comment above
More polls by LADY LIBERTY SILLY WORDSMITH