KFC Closes Restaurants in Pakistan Amid Protests: Should U.S. Retailers Get Out of the Middle East?
Now the enraged Muslim protestors are taking it out on the Colonel! What did those chickens do to you anyway? Well, it looks like lashing out against anything American is "in style" in the Middle East right now. Oh, and help me to understand again what Pakistan is so mad at the U.S. about? Are those hundreds of millions of dollars worth of aid we send for free just not enough? Should the U.S. just pack up and get out?

MONEY.CNN.COM reports:

Yum! Brands is shuttering all of its KFC franchises in Pakistan in the wake of anti-American protests there, after one of its KFC restaurants was attacked in Lebanon last week.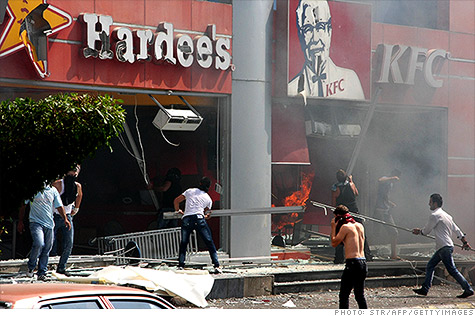 Read More: http://money.cnn.com/2012/09/21/news/companies/kfc...
Add a comment above