Is Obama Capable of Destroying the Country?
PUNDIT RIGHT > VOIGHT: Obama Capable of Destroying America?
Clearly everyone everywhere is off on vacation this week, because when Sean Hannity-fill in Mark Steyn hosted a segment on the START nuclear-missile treaty he brought in … actor Jon Voight.
Voight, former George McGovern campaign worker and Vietnam War protester, took a sharp turn to the right somewhere around 2008, when he renounced his liberal past, claiming he'd been duped by "Marxist propaganda."
The START Treaty, which would reduce U.S. and Russian nuclear arsenals and resume on-site inspections, advanced 67-27 in a senate vote Tuesday, signaling a likely final approval on Wednesday. Though a bipartisan effort, a surge of Republican objections threatened its passage.
STEYN: "Do you think the Republicans are going to stand firm on this? The president tonight seems to be pretty confident he can get enough Republicans to get on board with this thing to pass it with 67 votes. Are you confident the Republican Party will stand firm?"
VOIGHT: "Well, I certainly hope, so. And I think, again, a lot of it has to do with the American people. Get on the phones, folks, and make sure that we encourage our senators to reject this thing. You know, I don't -- we have seen this before. We have seen it coming towards Christmas as well. This idea that we push something through and people are thinking about, you know, presents for their grandchildren and wanting to get out of town, they come in and no one is thorough in their questioning or their reading of the materials. And they push something through.
I don't know how many more wrong Obama policies we need to see before we wake up to the possibility that this man is capable of destroying our country."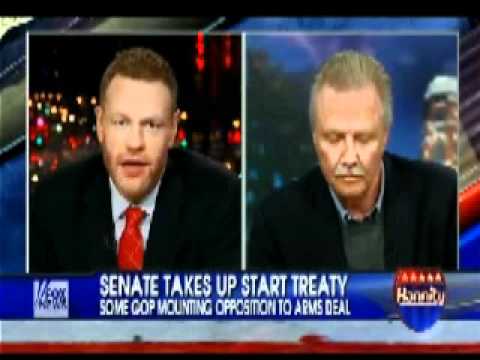 Read More: http://crooksandliars.com/david-neiwert/nuclear-ar...
Add a comment above