Is Obama a racist?
Consider this:
President Obama today launched an aggressive, targeted effort aimed at engaging African-American supporters for his 2012 campaign.
"I don't think there's a better time than African-American history month to consider the tremendous progress we've made through the sacrifices of so many, or a better time to recommit to the challenges we face right now," Obama says in a video to supporters posted on his campaign's blog.
Continuing economic woes disproportionately plaguing the African-American community have caused some frustration and dampened enthusiasm among voters, raising questions about whether turn out by blacks in November will be as robust as it was four years ago.
http://abcnews.go.com/blogs/politics/2012/02/obama-targets-bl...



Then there were the statements taken from two books he wrote: Dreams of My Father, and The Audacity of Hope


I ceased to advertise my mother's race at the age of twelve or thirteen, when I began to suspect I was ingratiating myself to Whites.
There was something about him that made me wary, a little too sure of himself, maybe. And White-- he'd said himself that was a problem.
It remained necessary to prove which side you were on, to show your loyalty to the black masses, to strike out and name names.

Sounds a bit Racist to me.
Here he is speaking in some type of accent we have never heard from him. I find that to be patronizing.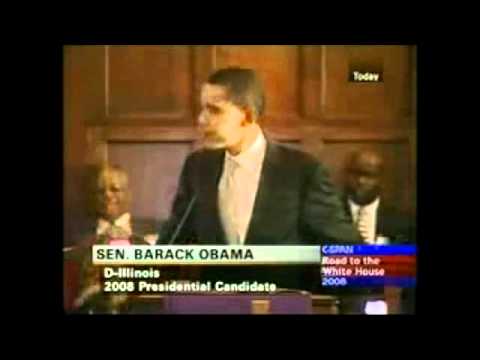 Add a comment above