If Obama is Elected will He set Race Relations Back Decades?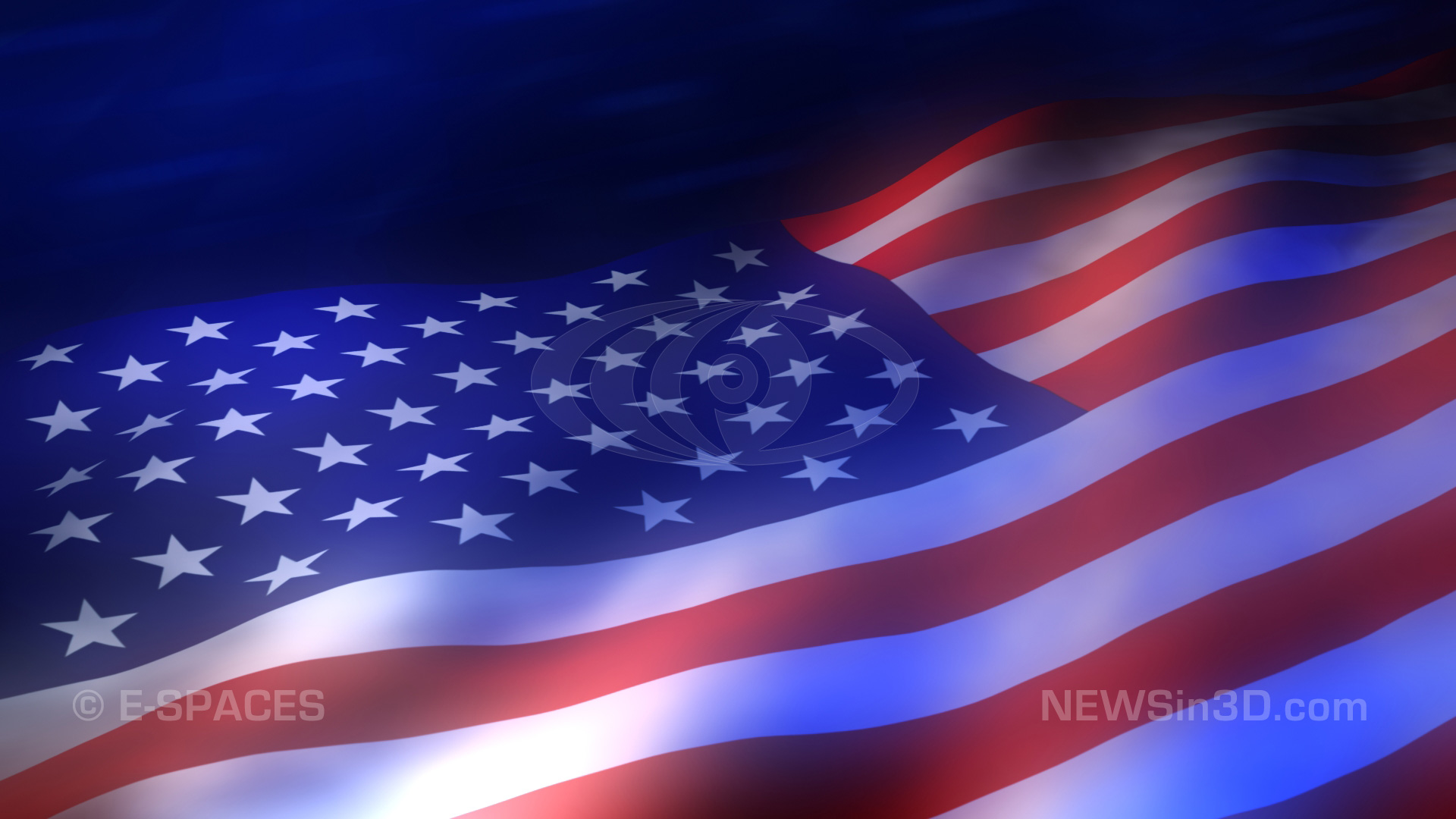 "Winfrey was a member of Trinity United from 1984 to 1986, and she continued to attend off and on into the early to the mid-1990s. But then she stopped. A major reason—but by no means the only reason—was the Rev. Jeremiah Wright.
According to two sources, Winfrey was never comfortable with the tone of Wright's more incendiary sermons, which she knew had the power to damage her standing as America's favorite daytime talk-show host. "
SOURCE:
http://www.newsweek.com/id/135392

Michelle and Barack Obama attended a Racist Church for over 20 years and only separated from that church once the media got wind of what was being Preached in that controversial Church.
The Obama's have distanced themselves from these Racist figures during the election, I am curious what those relationships will look like if Obama is elected to office and what impact that will have on Race Relations in America?
Will America be Paying Reparations for Slavery under an Obama administration?
Will Small Businesses that make more than $250,00.00 a year and "RICH" people that Obama plans on Raising their Taxes on be paying for Reparations? Seem Far Fetched?
Think about it while you view this segment of Videos on the subject.
Here Barack Obama does NOT say NO to Reparations!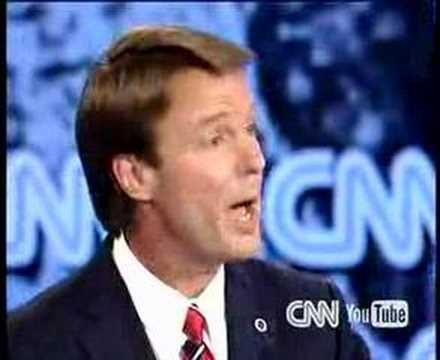 Louis Farrakhan who Received the Highest Award from Obama's Church shown here stating America Owes the Black Community Reparations for Slavery!
Farrakhan Part 1
Farrakhan Part 23---"You owe us! We wanna Get Paid!"
Michelle Obama with Louis Farrakhan!
MIchael Pfleger Obamas Recent Adviser Calling for Reparations at Obama's Church!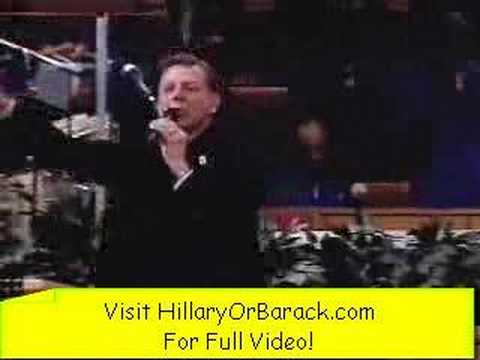 Prior to his election to the U.S. Senate in 2004 Obama opposed
reparations for slavery. After his election, Obama subtly changed his
view, stating he was against "just signing over checks to African-
Americans," leaving open the possibility of other forms of reparations
would be acceptable to him (Chicago Tribune 11/14/2004).
Recently, Obama has stated that an organized and responsible program
for reparations needs to be implemented.
"This will only amount to a few dollars each month", said Obama.
"The families affected will not even know the difference, it is the
right thing to do. We can bring change and hope to the disaffected
with this positive action."
"Each White family will only have to give a few pennies each day, the
$450,000 can be paid over 20, 30 or 40 years, there will be no impact
on their finances. With this donation to fairness, equality will be
achieved and the change will bring hope to the disenfranchised."
"We all can believe in this change for the future of America, we will
change the divisiveness of the political process and unite behind me."
SOURCE:
http://newsgroups.derkeiler.com/Archive/Alt/alt.sports.footba...
Take a Close hard Look at all of the Obama's Racist Friends/Associates and Advisers folks.
Obama And Rev.Wright
Obama and Jesse Jackson
JESSE JACKSON:---"All those years of work without wages are the foundations of America's wealth," Jackson says. "America must acknowledge its roots in the slavery empire, apologize for it ... and work on some plan to compensate."
SOURCE:
http://www.usatoday.com/money/general/2002/03/25/reparations-...
Jesse Jackson and Michael Pfleger!
Obama and Al Sharpton
REV. SHARPTON: "I'm in favor of reparations, and I'm in favor of it in the context of I support the bill HR-40, proposed by Congressman John Conti (Conyers)"
Source:
http://www.blackelectorate.com/articles.asp?ID=686

Sen.John Conyers
Sen.John Conyers:--- "The Commission to Study Reparation Proposals for African American Act:
In January of 1989, I first introduced the bill H.R. 40, Commission to Study Reparation Proposals for African Americans Act. I have re-introduced HR 40 every Congress since 1989, and will continue to do so until it's passed into law."
SOURCE:
http://www.house.gov/conyers/news_reparations.shtml

Sen.Ellison,Obama and Conyers
"Conyers is one of the top recipients of donations from the Arab-American Leadership PAC. And not surprisingly, he has a long history of pandering to Arab and Muslim voters."
"In 2003, Conyers hosted the first dinner on the Hill that celebrated the end of Ramadan for such Muslim leaders. It's now a tradition. Incoming Democrat freshman Keith Ellison, a Louis Farrakhan disciple and first Muslim member of Congress, will no doubt expand the invitation list."
SOURCE:
http://www.investors.com/editorial/editorialcontent.asp?secid...
Who is Sen.Keith Ellison? He has ties with Louis Farrakhan!
Senator Keith Ellison
Jesse Jackson Supporting the First Muslim In Congress Keith Ellison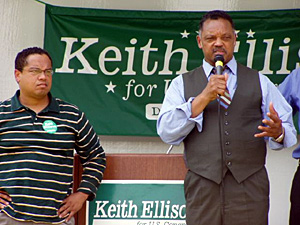 OBAMA and Keith Ellison
Keith Maurice Ellison (born August 4, 1963) is an American lawyer and politician belonging to the Democratic-Farmer-Labor Party. He became the first Muslim[1][2] to be elected to the United States Congress when he won the open seat for Minnesota's 5th congressional district, centered around Minneapolis, in the House of Representatives in 2006. He is also the first African American elected to the House from Minnesota, currently serving in the freshman class of the 110th United States Congress.[3] Ellison is also active on a national level in advocacy for Muslims in the United States
Farrakhan and Nation of Islam ties
While a law student in 1989 and 1990, Ellison wrote several columns as Keith E. Hakim in the student newspaper, the Minnesota Daily. "The first article defended Louis Farrakhan against accusations of antisemitism."[72], defended Nation of Islam spokesman Khalid Abdul Muhammad, and spoke in the voice of a Nation of Islam advocate."[73] The second column "called affirmative action a 'sneaky' form of compensation for slavery, suggesting instead that white Americans pay reparations to blacks."[72] The third suggested the creation of a separate state for black residents.[74][75]
In 1995, Ellison, writing an editorial as Keith X. Ellison, stated that Farrakhan is not an anti-Semite.[76][77] The same year, Ellison was identified as a member of the Nation of Islam in the Star Tribune
SOURCE:
http://en.wikipedia.org/wiki/Keith_Maurice_Ellison

I make NO apologies for Slavery, as Obama offers up excuses for his relationship with Bill Ayers who Bombed our Capitol and says he was "only 8 Years old when that happened", I was not even alive when slavery existed! So no ones Tax Dollars should go to pay anyone who was not even alive back then.....Period.
Slavery is a Sad time in our nations History but I don;t believe there any slaves even alive today nor is anyone alive today responsible for those atrocities
http://www.truthorfiction.com/rumors/o/Huntley-Brown-Obama.htm

This Election is the most important Election in our Life time, for the sake of ALL Americans of All colors, choose wisely on Nov 4th, 2008!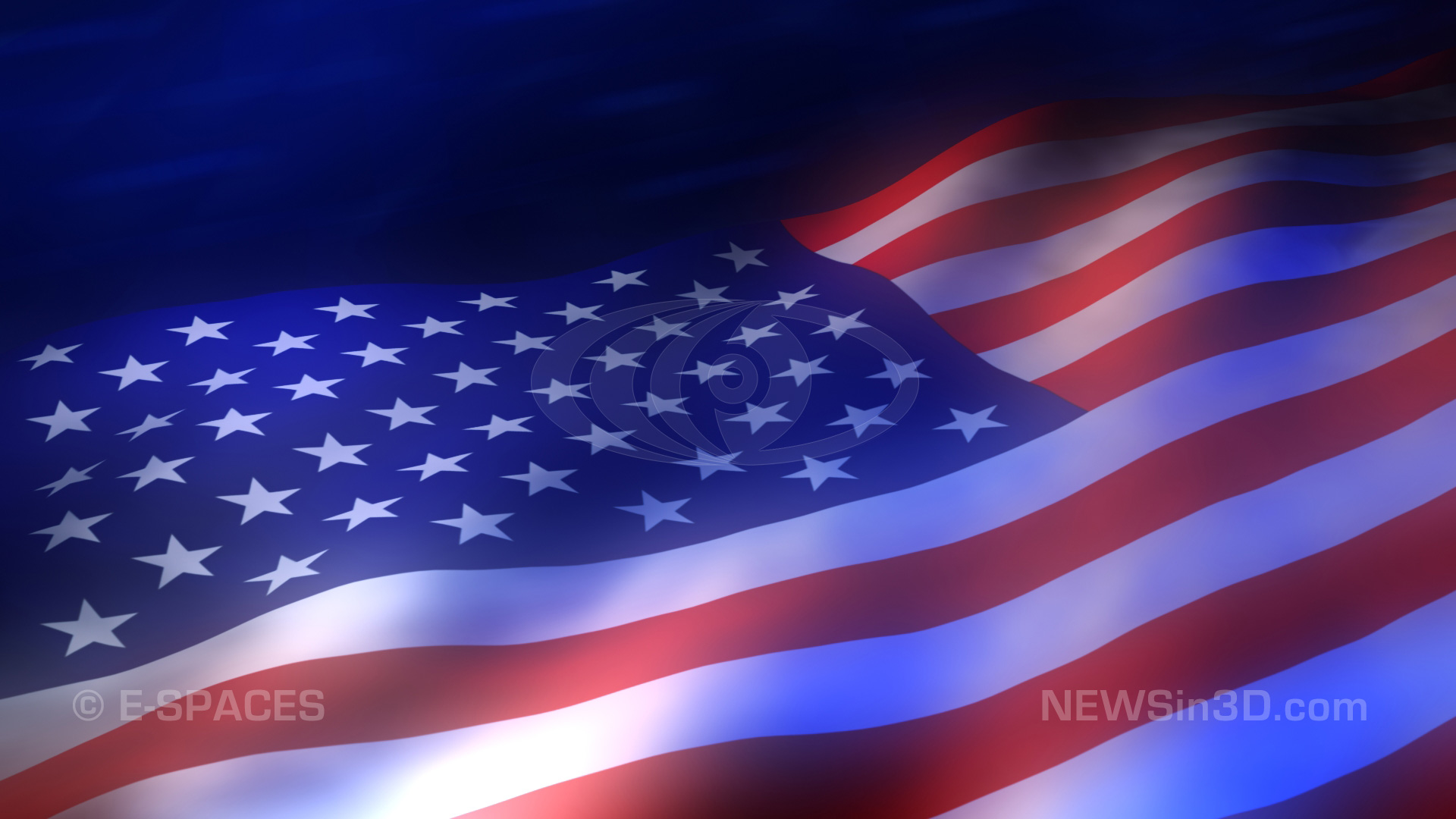 Add a comment above