'IDIOTIC' AND 'DANGEROUS'
'IDIOTIC' AND 'DANGEROUS'
Holder, Axelrod Denounce Florida Church's Planned Quran Burning
AP / Huffington Post First Posted: 09- 8-10 09:38 AM | Updated: 09- 8-10 11:24 AM
What's Your Reaction?
Read More:
Burn A Quran Day
,
Christianity
,
David Axelrod
,
Dove World Outreach Center
,
Eric Holder
,
Florida
,
Gainesville
,
Gen. Ray Odierno
,
General David Petraeus
,
Hillary Clinton
,
Islam
,
Terry Jones
,
Politics News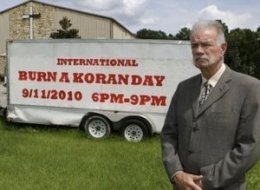 Rev. Terry Jones plans to burn qurans on the ninth anniversary of the September 11 terror attacks.
GAINESVILLE, Fla. - The leader of a small Florida church that espouses anti-Islam philosophy said Wednesday he was determined to go through with his plan to burn copies of the Quran on Sept. 11, despite pressure from the White House, religious leaders and others to call it off.
"We are still determined to it, yes," the Rev. Terry Jones told the CBS Early Show.
Jones' plans drew criticism from Attorney General Eric Holder, who, according to a Justice Department official, called the bonfire idiotic and dangerous during a private with religious leaders Tuesday.
Holder's words were echoed Wednesday by presidential adviser David Axelrod, who told NBC's Today show that the pastor's plan is "wrong in so many dimensions," offends U.S. values and is a threat to U.S. security.
Axelrod told CNN Wednesday morning: "The reverend may have the right to do what he's doing but it's not right. It's not consistent with our values ... I hope that his conscience and his good sense will take hold."
Secretary of State Hillary Rodham Clinton has also voiced her disapproval. At a Tuesday dinner in observance of Iftar, the breaking of the daily fast during the Muslim holy month of Ramadan, Clinton said, "I am heartened by the clear, unequivocal condemnation of this disrespectful, disgraceful act that has come from American religious leaders of all faiths."
Gen. David Petraeus took the rare step of a military leader taking a position on a domestic matter when he warned in an e-mail to The Associated Press that "images of the burning of a Quran would undoubtedly be used by extremists in Afghanistan -- and around the world -- to inflame public opinion and incite violence."