How Ron Paul Will Win The Republican Primary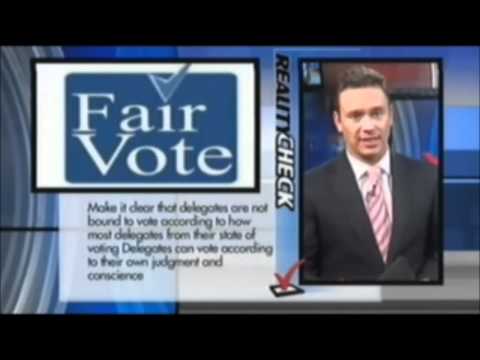 Watch the entire video as what is being said here is 100% true.
The RNC does, in fact, possess a rule where none of the state delegate votes are bound and they can vote for whomever they want. This means if the delegates go to Mitt Romney but the RNC itself does not feel ROmney can defeat Obama, they have the right to overrule the results of the popular vote and let every delegate cast their vote as they wish.
The states claim they have the right to handle their election processes the way they wish but the RNC's own lawyers and representatives all say that how the delegates are dealt to the candidates are not bound by ANY state rules.
So if Mitt Romney gets his 1144 delegates... HE STILL HAS NOT WON THE NOMINATION. The nomination will be decided in Tampa and Ron Pauls supporters have been doggedly going after the delegates where Mitt Romney is taking granted they're his... they are not and even if we were to examine the delegate count, it is based on the media telling us who won based on the popular vote. Ron Paul has already proven the MSM wrong several times now and he is gaining momentum to have delegates already pledged to Romney vote for Ron Paul instead.
This issue with Romney trying to claim he supported the GM bailout when he said very clearly he thought GM should be allowed to go bankrupt reveals Romney is the second coming of John McCain and the fool is going to defeat himself giving Obama four more years.
Republicans support Romney because he looks good in a suit and has popularity, but he has only one term as Governor of Massachusetts to his credit and even there he left a failure rather than a success. He did indeed pay off the state debt without raising taxes... he raised the cost of everything else increasing the cost of living and inflation instead so that Massachusetts was already collapsing like a deck of cards. Romney does retain a strong Democrat voting base in Massachusetts but he has already self destructed several times during the primary.
Every time Romney thinks he's won, he opens up revealing his Liberal leanings and tells lies which in the next states gave Santorum victory... in the same way, this fool will give Obama victory just like McCain did in 2008.
This is Ron Pauls last election. He is the only candidate with military experience, with experience in healthcare as a doctor and who has earned degrees in economics proving himself wise in every area we desperately need help in. He is the only non establishment candidate in the race and it's the establishment in both parties that created this mess.
Whether you agree with him or not, it is very clear he cares about us and this country as he often speaks of us as Americans where Obama talks of us as Democrats and Romney as Republicans always blaming the other side... and Ron Paul, he blames all of us and that's something you don't want to hear even though it's you voting for lying con men with no leadership ability that has given these career political con men the power they need to destroy our nation.
It is time for a change and even if you hate Ron Pauls guts... you know he'll damn well give us change and go after the establishment because he generally does what he says he will do even when it's not popular. He believes in himself, he believes in our peoples and he believes in our country where the others only believe in winning when winning doesn't equal success or even ability to lead as I address on this topic
http://www.sodahead.com/united-states/was-ulysses-s-grant-a-c...
about another President who should never have been elected and who won entirely based on POPULARITY rather than leadership ability of which, he actually possessed very little of.
Add a comment above