How did Black Americans get dragged into the Chick-Fil-A debacle?
http://www.sodahead.com/united-states/chick-fil-a-being-haras...
Seems like some SH Conservatives went from bashing gays to now bashing Black people, because the corrupt Rahm Emanuel let Farrakhan speak at some type of event. Any of way; now because of the corrupt Rahm Emanuel letting the hateful Farrakhan speak, some Conservatives have turned their guns on Black Americans. A man that most Black Americans pay no attention to, has now become their talking point to assassinate Black Americans character as a whole.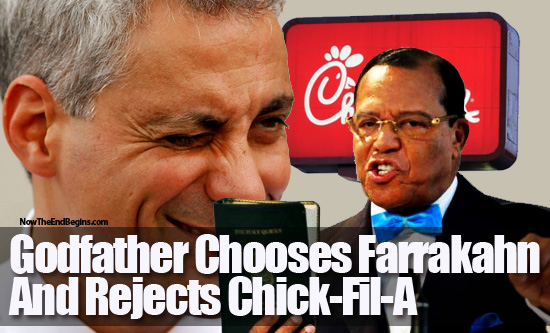 Rahm Emanuel Welcomes Farrakhan's Push
http://www.timesofisrael.com/chicago-mayor-emanuel-enlists-fa...
http://www.sodahead.com/united-states/chick-fil-a-being-haras...
Oh, and here are the stats for these people.
These stats:
Black Crime:
http://colorlines.com/archives/2012/04/crime_myths.html
http://www.theroot.com/multimedia/trayvon-and-myth-black-blac...
http://www.theroot.com/views/why-don-t-we-talk-about-white-wh...
Interesting crime stats from the FBI. Overall whites commit
70% of all crime in the USA. The media does not talk about this.
More than twice as many whites as blacks were arrested and
charged with a crime, according to the FBI's Uniform Crime Reports.
http://www.fbi.gov/about-us/cjis/ucr/cri
Of 9.5 million offenses charged, 6.7 million whites were
arrested, compared to 2.5 million blacks.
The most common crimes were drug abuse violations, resulting
in arrest of 770,430 whites and 381,006 blacks.
Whites were far more likely to be arrested driving under the
influence. Of 998,035 total offenses, 877,810 of those arrested where whites.
Blacks, meanwhile, were more than twice as likely as whites
to be arrested for gambling, 5,153 to 1,964.
And while blacks comprise about 13 percent of the
population, they were charged with most of the robberies, 40,993 compared to
33,070 for whites, and nearly as many homicides–4,395 black and 4,454 white.
Whites outnumbered blacks about 2-1 in arrests for other
crimes, including rape (11,766-6,114), aggravated assault (203,076-103,697),
burglary (143,889-103,697) and larceny/theft (556,215-233,806.)
Whites also were most often arrested for motor vehicle theft,
arson, other assaults, fraud, embezzlement, dealing in stolen property,
vandalism, weapons charges, prostitution, sex offenses, crimes against families
and children, liquor laws, drunkenness, disorderly conduct, vagrancy, curfew
and loitering, suspicion, as runaways and all other offenses not including
traffic.
It is so very convenient for White People, Asian People to
Categorize Black on Black crimes and Murders as it relates to the percentage of
the population and so on, and casually disregard the fact that White People are
approximately 1/7 of the World's population. In addition have killed at least
50+,000,000 of their own kind in the last 150+ years and 10's of millions of
people from all the other Races of people that inhabit this planet Earth.
Now does that mean
that White people are more prone to violence, crime and or murder? I don't
know, does that mean that when I see a hundred White guys coming down the
street, I should run in the opposite direction, because they are prone to and
have been known to kill non White people for no apparent reason other than;
they seem to hate every race of people including themselves.
When the situation arise I will decide, on the other hand
Black People are approximately 40% of the World's population and have only
managed to kill 20,000,000+ of their own kind in the last 150+ years and a
miniscule amount of people from all the other races that inhabit this planet
Earth. I have lived among these Black People for my entire life and not one of
them have ever laid a finger on me.
I've visited some of the roughest toughest neighborhoods in
these here United States, what's the reason for this, I don't hang out with
Gang bangers, I don't sell Drugs or involve myself in Drug activity or any
other kind of Criminal activity. So in other words the Black on Black
crime/murders I hear everyone talking about usually takes place 90% of the time
among criminals, sure some Black People steal from other People and themselves.

Asian people killed
their own by the 10's of millions throughout the years, would anyone care to
discuss, so that I can School you on a thing called History, engage me please,
so that I can show and prove everything I just stated with facts located in the
History Books. When these White people steal and rape they steal entire
countries, hundreds of Billions in natural resources and they have raped every
race of Women including White women. Let's have this ridiculous discussion
about the evil ways of the Black Man and Man in General.
(Now don't judging entire groups of people sound silly?)
You too can look at black crime just like a white racist.
Just follow my seven easy steps:
1. &nbsp... Trust the
news to give you a balanced picture. If most men arrested on the evening news
are black, then blacks commit the most crimes! See how simple that is? If most
of the black criminals on the news are psychopathic killers and not two-bit
robbers, then that is because most black criminals are psychopathic killers and
not two-bit robbers. No need to think. Just trust the good white people at the
news room to get it right. Unlike black people, their judgment is not clouded
by race.
2. &nbsp... Attribution
error: When white people do something bad it is due to circumstances, a bad
upbringing, a psychological disorder or something. Because, apart from a few
bad apples, white people are Basically Good. Everyone knows it. But when black
people do something bad it is because they were born that way. They try to put
up this front of being good but given the right circumstances their true nature
comes out. Sad but true.
3. &nbsp... Know your
stereotypes! Stereotypes come from hundreds of years of white insight into the
true nature of black people. The important stereotype here is the Black Brute:
blacks were all savages till white people saved them and brought them to
America. Whites taught them civilization, but deep down they are still savages.
All those black criminal psychopaths on the evening news prove it! And, as if
that was not bad enough:
4. &nbsp... Black
people want revenge! They are still whining about slavery over a hundred years
later! They will not get over it and move on like whites have. They are just
bursting with hatred for white people. They are just waiting for a chance to
get back at them. Most black-on-white crimes are, truth be told, hate crimes.
5. &nbsp... Know what
Jesse Jackson said! No need to listen to all those whining speeches of his.
Just remember the only reasonable thing he ever said:
There is nothing more painful to me at this stage in my life
than to walk down the street and hear footsteps and start thinking about
robbery, then look around and see somebody white and feel relieved.
See? And he is black! So how can it be racist to profile
blacks and be afraid of them?
6. &nbsp... Know the
tell-tale signs: Black criminals dress like black people! Like wearing hoodies
or wearing their pants hanging down. When whites dress that way it is for
fashion or comfort. When blacks do it it means they are a criminal or want to
be one. Know the difference!
7. &nbsp... Do not
read the FBI or DOJ numbers for yourself. Trust the experts at American
Renaissance or Stormfront to twist the numbers for you. If someone points out
how twisted those numbers are, just find some other source or some other way to
twist them. Or just repeat them! After all, everyone knows blacks are criminal
by nature. The numbers prove it!
Whites who fear blacks are racist. The statement almost
proves itself. Because they are not fearing honest-to-God robbers, murderers,
rapists, scam artists and so on, the very people who would hurt them, white or
black or whatever, but just black people. It should be laughable but too many
Americans take it seriously.
Whites and other non-blacks I have asked about this fear all
say the same thing: the black crime rate is much higher.
At first I believed that, but then I started noticing stuff.
Like how they had no trouble going to Chinatown or Midtown Manhattan and yet
feared missing their subway stop and winding up in Harlem. As if the part of
Harlem they would wind up in had a way higher crime rate. It did not: it just
had way more black people.
I tested this. Downtown Harlem and Chinatown at the time had
about the same crime rate. I walked down 125th Street in Harlem: 5% white. I
walked down Canal Street in Chinatown: 40% white.
Whites were not afraid of crime: they were afraid of black
people!
You see this in the way they twist crime statistics. Even
when you untwist them, they quickly find some other way to twist them back.
Which shows their fears were never based on the numbers to begin with – they
just use those numbers as a fig leaf to cover their racism.
Or take white flight: whites say it is caused by black
crime. I have lived in two such places 30 to 40 years after whites left: One
was extremely violent and the other was the safest place I have ever lived,
safer than any white or mixed neighborhood I have ever lived in.
You got to take neighborhoods and people case by case. To
judge them simply by their race is racist. It is nuts that I even have to say
that.
Another common trope is Blacks Beat Me up in High School.
Wow. Whites jumped me and beat me up just because of how I looked. Should I
then fear whites in general? Does that even make sense?
According to the FBI numbers for America in 2009 where the
race of the murderer and murdered were known:
• ... 2963
white-on-white murders
• ... 2604
black-on-black murders
• ... 454
black-on-white murders
• ... 209
white-on-black murders
Just to compare, the number of Americans struck by lightning
every year: 360.
A white person is 6.5 times more likely to be killed by
another white. Even if this was achieved by whites avoiding blacks, then whites
are 6.5 times more afraid of blacks than they should be.
White fear is not based on fact. It is based on stereotypes
and on the fear that blacks want revenge, a fear as old as slave days.
MYTHS:
Black Myth
1. &nbsp... There are
more Black men in prison than in college.
False. The numbers that people quote are ALL of the Black
men in prison, versus ONLY the free young Black men of college age, which spans
the late teens to the early twenties.
The misleading "evidence" comes from studies such
as the one conducted in 2000 by the Justice Policy Institute (JPI), a
Washington-based research group. JPI found that there were 791,600 Black men in
jail or prison and "only" 603,032 of them in colleges or
universities. They presented the findings as "evidence" of more Black
men in prison than in college.
Any of us can do the math: Out of the 42 million African
Americans that the 2000 census found, less than one million are in jail or
prison (.792 million).
The reality is that while there are too many of us in prison
and more of us in there than others, there are NOT more of us on the inside
than on the outside.
Add a comment above
More polls by Mahogany Goddess Oracle of PHAET