Hostage Negotiations?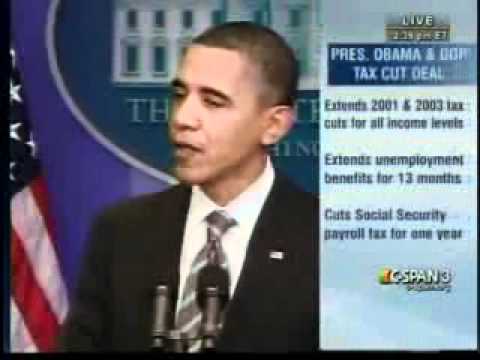 President Obama said Tuesday that a controversial plan to extend the Bush tax cuts for all Americans is a "good deal," as he tried to reassure members of his party furious over the deal he struck with Republican lawmakers.
The president, calling a rare press conference at the White House Tuesday afternoon to discuss the proposal, reiterated his personal opposition to extending tax cuts for the wealthy but said he had to accept a temporary extension because Republicans were "unwilling to budge" on it. He said he would push to end those cuts two years from now, but urged Congress to support the plan to avoid a crushing tax increase at the beginning of next year.
"I've said before that I've felt that the middle class tax cuts were being held hostage to the high-end tax cuts," Obama said. "I think it's tempting not to negotiate with hostage takers unless the hostage gets harmed - then people will question the wisdom of that strategy. In this case, the hostage was the American people and I was not willing to see them get harmed."



There you go again BO using hateful, derogatory rhetoric against the citizens of the US also known as Americans. You cannot choose to be President for some and not for all Little Whiner In Chief. I know you only love the Americans who want to trash our country, but you hear from those who love our country a few weeks ago. You'll keep hearing more from us!
BO is holding all citizens hostage while he collapses our economy and steals our freedoms. He is the great divider and conquerer, but the conquerer part that he's having a hard time with is making him mad.
Read More: http://www.foxnews.com/politics/2010/12/07/obama-d...
More polls by Sherry Mowery, My Cowboy suffers no longer...