Gorilla Walks Upright Like a Man: Cool or Scary?
This one is probably not going to go over very well with the folks at
Kentucky's Creation Museum
. A new viral video that's taking the 'Net by storm purports to show 480-pound silverback gorilla Ambam walking around upright on two legs like, well, a human.
The 18-second video of the 21-year-old male primate who lives in a British nature park was filmed last April by researcher Johanna Watson while she was working on a project about great ape locomotion.
While proponents of evolution have long held that humans' upright bipedalism is among the most convincing proof of the evolution of the human species from primate ancestors, some are seeing Ambam's two-legged stroll as a possible harbinger that the evolutionary gap might be quickly closing.
One of the keepers at the zoo told England's Daily Star that Ambam has had this ability for as long as he can remember and that the great ape's father and two sisters could also walk upright. Like many a human, Ambam's keepers said the ape's incentive for walking like a man comes down to food and curiosity. It seems he likes to get a look at the food bucket as it's arriving and peek over the enclosure's edge to see what's doing outside.
Ambam's keepers said he's not been trained to stand and does not do it on cue, adding that all gorillas can do it, but just don't choose to that often. If anything, a keeper said he's probably just a good example of his family's "standing-up gene," and not some kind of missing link.
Are you excited or scared by upright ape?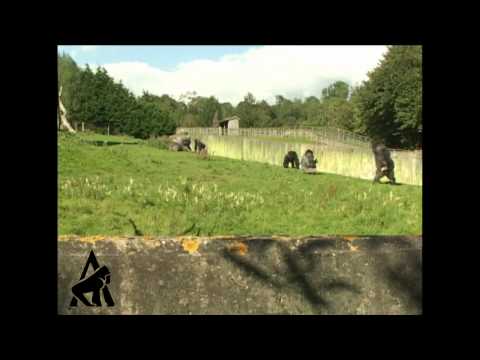 Add a comment above