Gay Gunman Attacked Family Research Council: Did Leftist Rhetoric Against Chick-fil-A Cause Domestic Terrorism?
Floyd Lee Corkins II walked into the Family Research Council headquarters in Washington D.C. armed with a gun. Witnesses said the gunman carried a Chick-fil-A bag and tried posing as an intern in the Conservative non-profit. Activists for same-sex marriage have staged boycotts and "kiss ins" against the fast food restaurant Chick-fil-A because its COO supports traditional marriage. The FRC also supports traditional marriage and opposes the homosexual agenda.
The FRC security guard tried stopping Corkins from entering. Corkins then shot the guard in the arm, but the guard still managed to disarm and subdue him. Corkins then shouted, "Don't shoot me, it was not about you, it was what this place stands for."
Corkins had volunteered at the Washington Community Center for Gays, Lesbians, Bisexuals and Transgendered People. The group and 26 homosexual organizations have condemned Corkins' behavior in a joint statement carried on the website of Gay-Lesbian Alliance Against Defamation.
Many Democrats, homosexual activist organizations and even Liberal mayors expressed their outrage over the private views of the Chick-fil-A executives. Chicago Mayor Rahm Emanuel, the former Chief of Staff for President Obama, said "Chick-fil-A" is not welcome in his city. Watch the video to see more of the rhetoric attacks against the family-owned restaurant chain.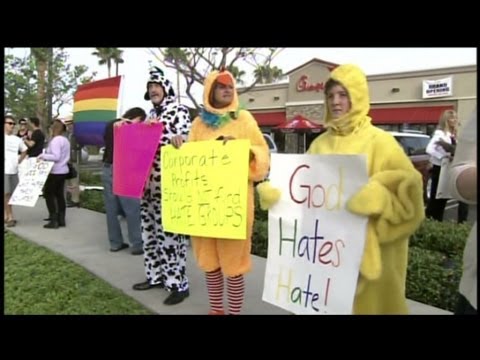 Ironically, the Liberal activist group Southern Poverty Law Center designated FRC as a hate group.
NATION.FOXNEWS.COM reports:
A security guard at the Family Research Council's headquarters in Washington, D.C. is being hailed as a hero after he stopped a gunman posing as an intern, taking a bullet in the arm before wrestling the suspect to the ground.
Read More: http://nation.foxnews.com/family-research-council/...
Add a comment above