Former Navy Seal Sniper Chris Kyle Murdered at Shooting Range by Veteran With PTSD: Is Mental Illness or Guns a Bigger Problem?
America's most lethal sniper, former Chief Petty Officer Chris Kyle, got murdered while trying to help a former Marine with Post Traumatic Stress Disorder. Kyle had taken former USMC Corporal Eddie Ray Routh to a shooting range in Texas as part of Routh's therapy.
Trevor Cox, the director of Fitco Cares, a foundation Kyle helped establish for veterans with post-traumatic stress disorder, said in a statement, "My heart is breaking. Our foundation, Fitco Cares, this country and most importantly, his wife Taya and their children, lost a dedicated father and husband, a lifelong patriot and an American hero.... Chris died doing what he filled his heart with passion – serving soldiers struggling with the fight to overcome PTSD." Rest in Peace Chris Kyle.

GUARDIAN.CO.UK reports:

US military's most prolific sniper wrote bestselling memoir on his four tours in Iraq and was known for helping veterans with PTSD.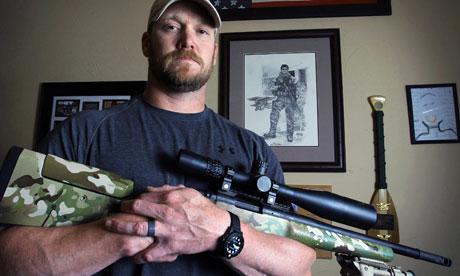 Read More: http://www.guardian.co.uk/world/2013/feb/03/sniper...
Add a comment above