Does Mitt Romney Have to Deny Climate Change to Win the GOP Nomination in 2012?
If
Mitt Romney
thought he had a problem explaining his legislative past on health care, just wait until they get a load of this. The former Massachusetts governor and
GOP presidential candidate
is
getting hammered by a website called "Conservatives 4 Palin"
for falling into line with yet another Obama administration, and allegedly Democratic, talking point:
global warming
.
According to a recent posting on the site, "Mitt Romney is already simpatico with the Obama Administration on cap and trade, ethanol subsidies, and health care mandates. Today we can add one more to the list: Man-made global warming."
The site
quoted a statement Romney recently made to a crowd of 200 at a town hall meeting in Manchester, N.H.
"I believe the world is getting warmer, and I believe that humans have contributed to that," Romney said.
The site went on to quote a bit from Romney's book, "No Apology," in which he wrote, "Oil is purported to be one of the primary contributors to rising global temperatures. If, in fact, global warming is importantly caused by our energy appetite, it's yet one more reason for going on an energy diet. As we have seen, it is hardly the only reason for doing so."
"Remind me again: Why is this guy considered the
frontrunner for the Republican nomination
?" wrote the author of the Palin-supporting site. "I may be going out on a limb here, but shouldn't the Republican candidate
oppose
Democrat positions? Or am I living in the past and hopelessly naive?"
The site – whose distinguished group of contributors include such renowned pundits as "Sinistar," "The Aged P" and "Hal" -- went on to slam Romney for "totally" buying into the "man-made global warming hoax."
Does Romney have to deny climate change to get GOP nomination?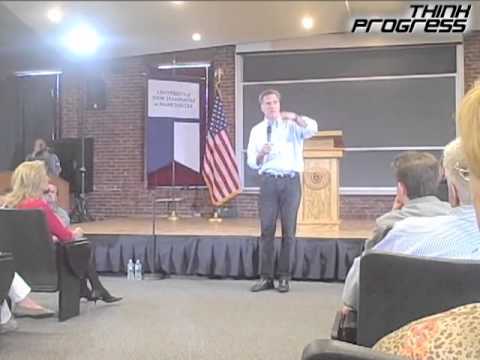 Add a comment above