Does Barack Obama support Occupy Wall Street?
Barack Obama's political roots are connected to the creators of Occupy Wall Street:
-Labor union operative
-Left-wing 'community organizer'
-Socialist policies that promote redistribution and government control
Barack
Obama has expressed support for the Occupy Wall Street
Movement:
"The most important thing we can do right now is those of us in leadership letting people know that we understand their struggles and we are on their side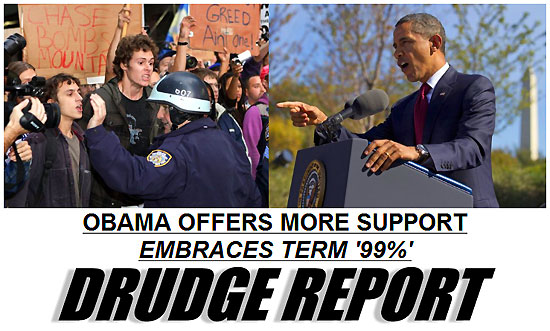 With the public support for OWS slipping given their massive illegal and disgusting behavior, the left is wondering if Barack Obama is throwing his left-wing socialist buddies under the bus like he has done with other leftists that became obstacles to his power.
How will
Obama's allies in the left wing that have created OWS
support Obama while simultaneously claiming no direct link to Obama?
The left wing is starting to get upset that Obama does not admit he is a core OWS organizer
but Obama wants to win re-election and wants no contact with these thugs.
The famous convicted vandal who created the Obama 2008 poster has a new poster...one with a thinly veiled threat toward Obama.
Does Barack Obama support Occupy Wall Street?
Read More: http://www.verumserum.com/?p=33717
Add a comment above