Do You Think the Supreme Court Will Strike Down DOMA?
A majority of the Supreme Court's justices expressed skepticism Wednesday about the federal law defining marriage as between one man and one woman. Wednesday's arguments on DOMA marked the second straight day that the nation's highest court considered a high-profile case on gay marriage.
After considering a challenge to California's Proposition 8 ban on gay marriage Tuesday, the Supreme Court heard arguments Wednesday in a case seeking to overturn the 1996 law signed by President Bill Clinton that defined marriage as heterosexual and prevented gay couples from receiving federal marriage benefits. If the Supreme Court considers the merits of either case, it could issue a landmark ruling on gay marriage by the end of June.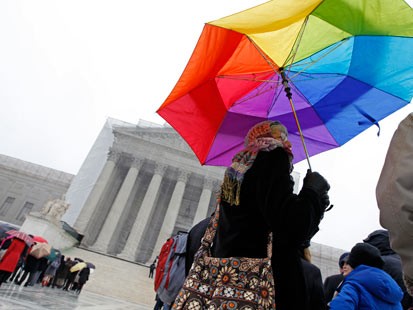 Read More: http://abcnews.go.com/Politics/OTUS/gay-marriage-r...
Add a comment above