Do We Have a Right to Education?
Clearly not content with letting his politico-talk-show-staple son, Rand, hog all the spotlight, Rep. Ron Paul (R-Texas) stepped up recently with some controversial statements about education in America.
MSNBC's Cenk Uygur posed a hypothetical situation to Paul about a poor student with good grades but no money for college. Uygur asked: "
Do you think the government should give him a helping hand, give him an opportunity
... or that's it? Tough luck - you're poor, you don't get an education?"
Paul said if someone wants an education - or medical care - then they've got to earn it themselves. It's not the role of the government to facilitate anyone's educational opportunities:
"
Well, no. You're the government; it's your money. I don't have a right to come to you and say 'My poor kid in Texas needs an education.'
I come to you and knock on the door and say 'Give me $500.' But we send the IRS agent and then it's OK.
"So I have no right to take money from you - nobody has a right to somebody else's wealth. You have a right to your life, and you have a right to your property, but you don't have a -
education isn't a right. Medical care is not a right. Education - these are things that you have to earn
."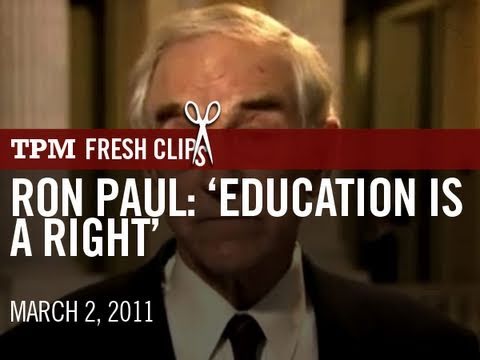 Read More: http://tpmdc.talkingpointsmemo.com/2011/03/rep-ron...
Add a comment above