Did the Founding Fathers End Slavery?
Tea Party favorite (and possible 2012 presidential nominee?) Congresswoman Michele Bachmann (R-Minn.) knows her base: speaking at an Iowan's for Tax Relief event recently she made sure to talk up America's Founding Fathers. It's a rousing speech, well-delivered, but did she go too far in her enthusiasm?
Bachmann began by linking presumably 19th- and 20th-century immigrants back to the traditions and values of the Founding Fathers. But then she overreaches a bit, pointing out that while slavery was a "scourge," it was also "extinguished" by the Founding Fathers - John Quincy Adams, in particular.
As the website
Talking Points Memo
notes, Adams was indeed an opponent of slavery, but he's neither considered one of the Founding Fathers, nor did he live long enough to see slavery abolished with the Emancipation Proclamation. Adams died in 1848, while Lincoln signed the Emancipation Proclamation in 1863.
"Our ancestors, when they arrived on these shores, just think of it: they spoke different languages, they had different cultures, different backgrounds, different traditions. But unbelievably, they all bound themselves to this tradition, this covenant that was contained in the Mayflower Compact, this covenant that we re-published in the Declaration of Independence.
"How unique in all of the world, that one nation that was the resting point from people groups all across the world. It didn't matter the color of their skin, it didn't matter their language, it didn't matter their economic status. It didn't matter that they descended from nobility or whether they have a higher class or a lower class. It made no difference. Once you got here, we were all the same. Isn't that remarkable?
"It is absolutely remarkable, out of that, 'e pluribus unum,' out of many, one. That is the greatness, the essence of this nation.
"And we know we weren't perfect. We know there was slavery, it was still tolerated when the nation began. We know that was an evil. And it was a scourge and a blot, a stain upon our history.
We also know that the very founders that wrote those documents worked tirelessly until slavery was no more in the United States. And I think it is high time that we recognize the contribution of our forbears who worked tirelessly - men like John Quincy Adams, who would not rest until slavery was extinguished in the country.
And we have them to thank for that."
(the comments above begin at around the 9:00 minute mark)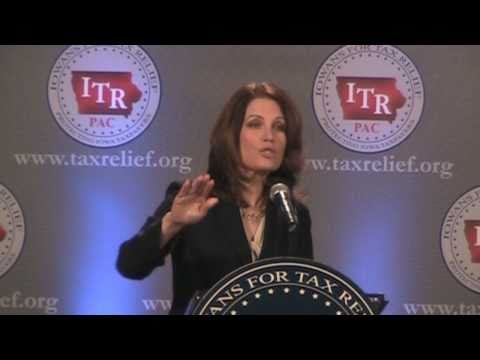 Read More: http://www.mediaite.com/tv/bachmann-americas-found...
Add a comment above