Democratic Party BUSTED On Tape Lying To Police. Tea Party Vindicated!
As the 0bamaGanda propaganda machine has worked feverishly to LIE to America about the Americans fighting the Communist styled Democrat Party's actions, another LIE gets exposed.
The violence at the Searchlight gathering against Tea Party Activists was captured on video, and even one guy who looks EXACTLY like Democrat operative Brian Dimarzio is caught lying to the police.
If Dimarzio, Field Director of the Nevada Democratic Party isn't the guy in the video, why is he refusing to talk to reporters today?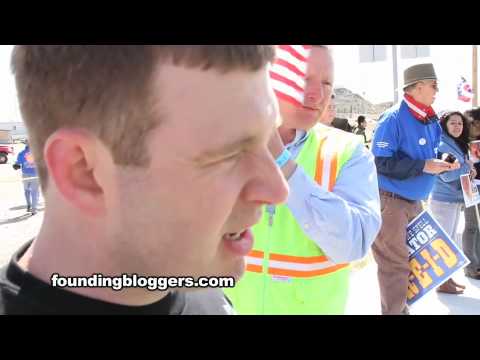 Breibart reports ...
The guy in this video (who looks exactly like Brian Dimarzio) lied to the police in Searchlight Nevada on Saturday, March 27. After an egg was hurled passed Andrew Breitbart's face and smashed against a bus carrying peaceful, law-abiding tea party members, the police came to investigate. "They're throwing eggs and blaming us" he said, to a police officer on the scene. When she looked at Breitbart and his associates, she asked who they were with. "The Tea Party", they responded. Without hesitation the police officer said "The Tea Party? You didn't throw eggs at the bus.", but our weasel (who looks exactly like Brian Dimarzio) continued his lie and then scurried away.
Meanwhile, it's been 12 days now and we still don't have any evidence that anyone shouted a racial epithet at the Congressional Black Caucus.


Read more: http://biggovernment.com/sright/2010/04/02/did-the...
About Me
The Latest From SodaHead
News
Government shutdown or not, there's a new $100 bill in town -- and apparently, people love it!

If Congress doesn't agree on how the U.S. will pay its bills by October 1st, the federal government will shut down. But how concerned is the average American? Not very.
Politics
Ever since President Obama's re-election back in November, the media hasn't stopped reporting about the ruffled course of the Republican party. So who's the future face of the GOP? Find out how the public voted.

New Jersey Governor Chris Christie has been at the center of media coverage for a while now. But more recently, the buzz has been about his proclaimed political party -- and whether or not he should change it.