"Cumulus Media's Trouble with Rush Limbaugh Deepens As Ratings Plummet in Nation's #3 Market"
Thu Jul 18, 2013 at 11:32 AM PDT

Cumulus Media's Trouble with Rush Limbaugh Deepens As Ratings Plummet in Nation's #3 Market



by ProgLegs



As Cumulus Media decides whether or not to renew his contract at year's end, talk radio problem child Rush Limbaugh continues to drag the radio giant down, with yesterday's revelation that ratings for his Chicago home WLS AM are down 22% over the past 3 months: "WLS-AM went from a 2.7 share in the April ratings period, dipped to 2.5 in May, and down to only a 2.1 share in June. In contrast, competitor station, Tribune-owned WGN-AM pulled a 4.8 share in April and climbed to a 5.3 share in June, buoyed, in part, by Blackhawks' coverage." Chicago is the nation's 3rd ranked radio market.



Although not everyone agrees that Limbaugh is the culprit, there is no disputing that syndicated talk radio cost Cumulus $2.4 million in losses last quarter, and high ranking Cumulus officials say that major advertisers have abandoned the Rush Limbaugh Show--and have not returned: "Forty-eight of the top 50 network advertisers have 'excluded Rush and Hannity' orders. Every major national ad agency has the same dictate." As for WLS specifically, Flush Rush Facebook volunteers report that the number of non-paying public service announcements (PSAs) airing on the Chicago station's Limbaugh broadcast now is double what it was before Limbaugh's infamous attack on Sandra Fluke. That indicates a continuing inability to sell existing ad space.



Cumulus CEO Lew Dickey himself has talked about the future of ad sales being in sports radio, which he refers to as "a safe harbor." This week Rush Limbaugh underscored the notion that talk radio--and his show in particular--is a perilous harbor, with his provocative dropping of the N word during Tuesday's show. You can see it at the end of this montage of Limbaugh's Racist Hits which Media Matters put together this week: * With Limbaugh continuing to attack women and minorities and bite the hand that feeds him, it is looking more and more likely that his contract with Cumulus will not be renewed at the end of the year. The end is in sight for Limbaugh's reign of horror on our public radio airwaves.

Limpboy rhetoric below is another example of why
advertisers are sick of this man (by a technicality)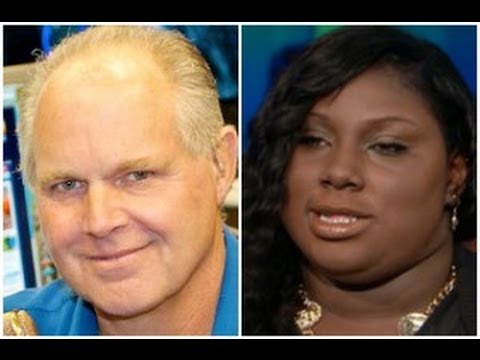 Read More: http://www.dailykos.com/story/2013/07/18/1224731/-...