CLASS ACTION LAWSUIT AGAINST CHEMTRAIL SPRAYING AND WEATHER MODIFICATION, RESULTING IN HURRICANE SANDY - NOW BEING ORGANIZED! NEMO ALSO GEO-ENGINEERED!

A gigantic class action lawsuit is being organized against geoengineering ("chemtrailing") that anyone, anywhere in the world can join as a plaintiff.
http://chemtrailgeoengineeringlawsuit.webs.com/
Watch this video to see detailed analysis of how aerosol dumps, chem dumps were used to intensify Hurricane Sandy and to see how HAARP was used to steer it like a bomb smack dab into the metro NYC Area.

You won't believe what this video reveals!!! Satellite and Radar captured Infrasonic Undulation, Chemtrails enmass and ChemDUMPING!!! Multiple weather system steering and super storm creation, right before your eyes!!!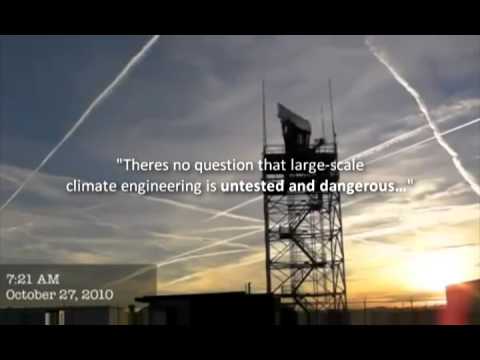 The reality of weather modification is no conspiracy theory.
But ask yourself this, "If we can modify weather then why don't we still do it for the good. For instance, seeding clouds to make it rain, so our breadbasket doesn't become a dust bowl, or so fires that burned for so long could be quenched? And why don't we steer hurricanes away from murderous rampages, instead of directing them into it?" There is no more question we have the technology. And no excuse not to use it for good.
Since before the 50′s, weather modification techniques have existed. In fact, the threat of "weather weapons" was so imminent that the United Nations felt it necessary to draft a treaty ensuring no nation would use this "new means of warfare" against one another. Why would the U.N. draft a treaty if weather modification was just a conspiracy theory?
Treaty defined "weather weapons" as follows: "[...] the term "environmental modification techniques" refers to any technique for changing -- through the deliberate manipulation of natural processes--the dynamics, composition or structure of the Earth, including its biota, lithosphere, hydrosphere andatmosphere, or of outer space."
Hurricane Aerosol and Microphysics Program (HAMP)
A Division of the American Meteorological Society.
http://ams.confex.com/ams/29Hurricanes/techprogram/session_24...
DHS Funds Research on "Taming" Hurricanes
http://www.infowars.com/homeland-security-funds-research-on-t...
Hurricane Aerosol and Microphysics Program (HAMP)
Chair: William R. Cotton, Department of Atmospheric Science, Colorado State University, Fort Collins, CO
http://www.destroythedarkness.com/forum/discussion/524/class-...
Read More: http://www.geoengineeringwatch.org/hurricane-sandy...
Add a comment above