Christine O'Donnell Says AIDS Gets Too Much Government Money?
Christine O'Donnell
has a problem with other people's sex lives.
O'Donnell is the
Tea Party
-backed candidate from Delaware who swept away GOP favorite Mike Castle to win the Republican primary for U.S. Senate. Now that she is that much closer to reaching Congress her views on sex, gay or straight, have taken center stage.
O'Donnell, who founded a Christian group that promoted monogamy and no sex until marriage, has commented in the past on AIDS funding, saying that the government spends too much money on AIDS programs that promote a risky lifestyle rather than prevent it.
"A lot of the money that we're spending goes to things that we know will not prevent AIDS, but indeed will continue to spread the disease," she said in a C-SPAN interview. "A lot of our money goes to distribute condoms in high schools, and a lot of our money goes to distribute material that is literally pornographic."
The Delaware native is also opposed to masturbation.
According to O'Donnell, the Bible says "lusting in your heart" is the same as committing adultery and, as O'Donnell said in a past MTV interview, "You can't masturbate without lust."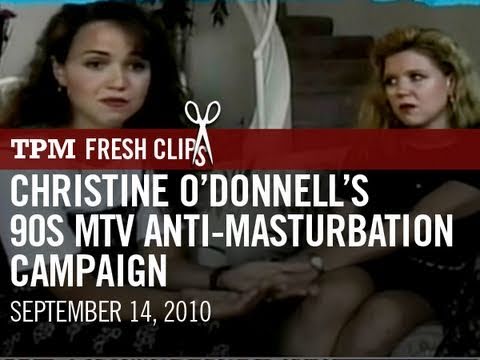 Do You Agree With O'Donnell's Comments on AIDs and Masturbation?

Read More: http://www.mediaite.com/online/christine-odonnell-...
Add a comment above