California to Ban all Semi-Automatic Guns, Confiscate Firearms and Limit Ammo Sales: Good Law?
Let's for one minute ignore the Second Amendment and other Constitutional civil rights afforded to citizens of California and America. Gun control doesn't work. California and other states already have strict laws that criminals violate. Criminals -- by definition -- don't follow the law. This would create criminals out of millions of decent, otherwise law-abiding Californians.
Now, back to reality. Californians still have the civil rights afforded to all Americans under the Constitution. The Second Amendment would not allow such a law. California Democrats want to look like they deserve their job by acting tough on crime -- but in reality they will create a judicial nightmare and violate the Constitutional rights of its citizens.
Horror stories about gun violence pale in comparison to the unreported statistics of guns used to prevent violence on a daily basis. The smart Californians will leave, and the state will have fewer taxpayers to pay the debt Democrats have racked up over the decades.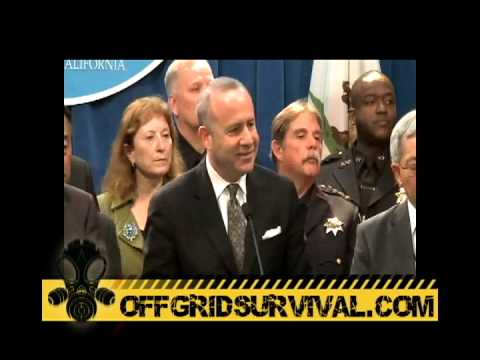 OFFGRIDSURVIVAL.COM reports:
California calling for door-to-door gun confiscations; ban of all semi-automatic handguns, shotguns and rifles; making possession of over 500 rounds of ammo a felony; and a list of proposals that will instantly criminalize law abiding gun owners...
The package includes:
* Banning the possession — not just manufacture and sale — of magazines holding more than 10 rounds.
* Making possession of hollow point bullets and similar "assault bullets" a felony.
* Requiring anyone wishing to buy ammunition to first get a permit by passing a background check.
* Requiring the registration and reporting of all ammo purchases. Limits the number of rounds anyone can have at one time to 500 rounds.
* Requiring all gun owners will have to be licensed like drivers, and will be forced to carry gun liability insurance.
* Banning any gun that has a detachable magazine, and requires a 100% prohibition of all fixed magazines greater than 10 rounds.
* Making all previous grandfathered magazines become illegal, and it will become a felony if you keep one.
* Prohibiting anyone barred from owning a weapon from living in a home where weapons are kept
* Expanding the list of crimes that would bar a person from gun possession.
* Letting the state Justice Department use money from the state's Dealer's Record of Sale system to eliminate the backlog of people identified as no longer allowed to own guns but not yet investigated and contacted by law enforcement.
Read More: http://offgridsurvival.com/californiatobansemiauto...
Add a comment above