BUSTED: HBO GETS CAUGHT SELECTIVELY EDITING REVIEWS FOR 'THE NEWSROOM'
I guess they never learn!
Jeff Bercovici at Forbes has been somewhat suspicious of the gushing praise Aaron Sorkin's new show "The Newsroom" appears to be receiving. After all, it has a "distinctly mediocre" score of 57 on Metacritic.com, which aggregates reviews from "all over," Bercovici explained.
Bercovici continued:
You wouldn't know that from ads HBO has been running to promote [the show], though. A two-pager that ran in last week's edition of The Hollywood Reporter, among other places, quotes breathless-sounding praise from The New York Times, Time and Salon, among two dozen outlets. Yet all three of the reviews those blurbs were drawn from were distinctly negative.
The quote from the Times, bannered atop the full width of the spread, reads: "Wit, sophistication and manic energy…A magical way with words…a lot of charm."
So what did the quote leave out? Just that, "the show chokes on its own sanctimony…suffers from the same flaw that it decries on real cable shows on MSNBC or Fox News," and that its structural conceit is "probably a mistake."
Ouch.
Here's a dramatic trailer for the show, featuring an explanation of why America isn't the "greatest" country in the world: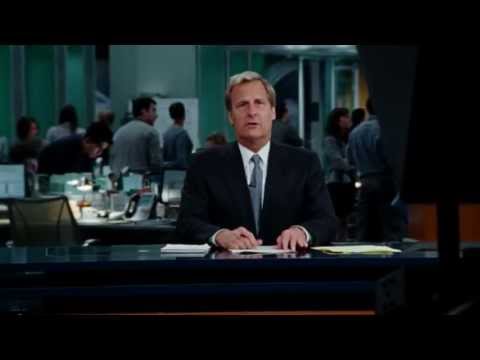 Salon's Willa Paskin is quoted in the ad calling "The Newsroom" "captivating, riveting, rousing." Here's what she actually wrote: "The results are a captivating, riveting, rousing, condescending, smug, infuriating mixture, a potent potion that advertises itself as intelligence-enhancing but is actually just crazy-making."
This isn't the first time a network has misrepresented critical reviews to audiences, but HBO isn't usually put in a position where it has to. Its shows, which have included The Sopranos, Game of Thrones, Sex and the City, and Rome, have typically endeared themselves to the public based on their own merit.
Poniewozik, a critic for Time, says he has no recollection of HBO ever pulling such stunts with his reviews before.
"Ironic way to promote a journalism drama," he added.
http://newsbusters.org/blogs/ken-shepherd/2012/07/23/forbes-m...
Read More: http://www.theblaze.com/stories/busted-hbo-gets-ca...