Bradley Manning Sentenced to 35 Years in Prison: Should He Have Gotten More or Less Time?
The 25-year-old soldier who passed on hundreds of thousands of classified military information to WikiLeaks has been sentenced to 35 years in prison. This is the largest sentence any US government leaker has ever received, but he is also responsible for the biggest leak in US military history. Prosecutors were aiming to have him put in for 60 years.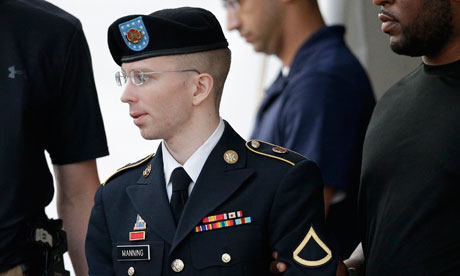 Aside from the sentence, Manning's rank in the marines has been demoted to that of Private E1. He will also have to give up pay, and allowances as well as be dishonorably discharged. He has to serve a minimum of one-third of his sentence, meaning he could potentially be up for parole in eight years. Also, the 1,294 days Manning has already spent in military custody, since May 2010, will be deducted from his sentence.
Civil rights and press freedom groups are still not pleased with this turn out, however.
Ben Wizner, director of the American Civil Liberties Union's Speech, Privacy & Technology Project, said in a statement: "When a soldier who shared information with the press and public is punished far more harshly than others who tortured prisoners and killed civilians, something is seriously wrong with our justice system." He later added, "This is a sad day for Bradley Manning, but it's also a sad day for all Americans who depend on brave whistleblowers and a free press for a fully informed public debate."

What do you think? Fair, or unfair ruling? Should he have gotten more time, or is his sentence already far too drastic compared to others charged under the Espionage Act?
Read More: http://www.theguardian.com/world/2013/aug/21/bradl...
Add a comment above