Bohemian Grove Protest 2012, Senior Citizen Arrested and Abused at The Grove protest and Cindy Sheehan Gives Them NWO Scumbags hell!
Brian
2012/07/17 01:39:11
Senior citizen billy clubbed and arrested!
Cindy Sheehan
Cindy Lee Miller Sheehan (born July 10, 1957) is an American anti-war activist whose son, U.S. Army Specialist Casey Sheehan, was killed by enemy action during the Iraq War. She attracted national and international media attention in August 2005 for her extended anti-war protest at a makeshift camp outside President George W. Bush's Texas ranch—a stand that drew both passionate support and angry criticism. Sheehan ran unsuccessfully for Congress in 2008. She is a vocal critic of President Barack Obama's foreign policy. Her memoir, Peace Mom: A Mother's Journey Through Heartache to Activism, was published in 2006.
Mark Dice Bohemian grove 2012: Welcome to the Bohemian Grove, Illuminati scumbag!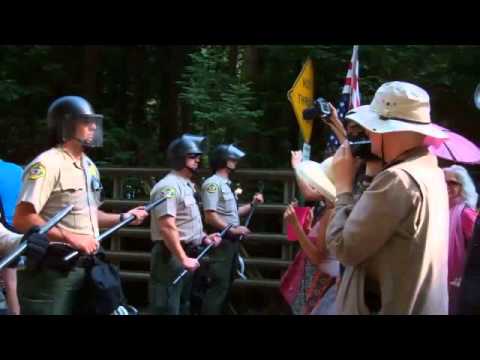 Are you calling out the NWO scumbags for what they really are?
Add a comment above