Blackwater USA, do you agree with the use of mercenary troops by the United States?
I know there are mixed feelings, that these are former U.S. soldiers and that to insult them would be to insult the military, but these are mercenary troops and the saying "Loyalty to the coin is loyalty none the less" is faulty as an anonymous framer of the Constitution said....
Under every government the dernier [Fr. last, or final] resort of the people, is an appeal to the sword; whether to defend themselves against the open attacks of a foreign enemy, or to check the insidious encroachments of domestic foes. Whenever a people... entrust the defense of their country to a regular, standing army, composed of mercenaries, the power of that country will remain under the direction of the most wealthy citizens.
- Anonymous Framer of US Constitution
Jeremy Scahill is the author of the new book "Blackwater: The Rise of the World's Most Powerful Mercenary Army." On yesterday's broadcast, we talked about how new lawsuits and congressional efforts are challenging Blackwater's role as the Bush administration's leading private security force, from Iraq to Afghanistan to New Orleans.
http://researchris.blogspot.com
Jeremy Scahill talks about how Erik Prince started Blackwater along with alot of other great info of how Blackwater mingles with gov't.
Erik Prince's CNN Interview...
House Hearing on Blackwater Security Firm in Iraq, October 2, 2007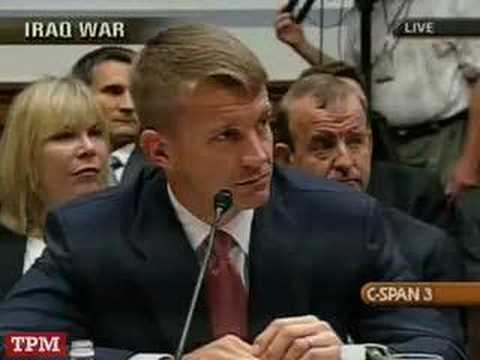 http://www.infowars.com/index.html
Blackwater Training US Police
Wayne Madsen Report | October 15, 2007
The mercenary firm Blackwater USA is well known for the controversy involving its "shoot first, ask no questions" policy in Iraq. It is also known that Louisiana's Department of Homeland Security contracted with Blackwater to provide public law enforcement services in New Orleans following hurricane Katrina. Blackwater is also planning to establish regional training centers in Potrero, California and Mount Carroll, Illinois, billed as Blackwater West and Blackwater North, respectively.
These training centers, in addition to Blackwater's Lodge and Training Center in Moyock, North Carolina -- Blackwater East -- and a possible fourth rumored to be slated for the Pacific Northwest -- Blackwater Northwest -- may result in the establishment of a network of Blackwater-trained police, sheriffs, and other police units around the country. Given Blackwater's dismal record on human rights and brutality, this spells trouble for civilian control of police and paramilitary forces in the United States, from major metropolitan areas to small rural towns.
On October 14, the Washington Post ran a story, which included photographs from Blackwater's Moyock training center. However, what was most intriguing was a photograph of a police and military patch board at Blackwater's headquarters that indicated the police agencies that have sent their officers to Moyock for training.
Blackwater is secretive about its non-federal, as well as its foreign clients, which the Post pointed out includes Jordan, Azerbaijan, and Burkina Faso, but a WMR inspection of the photograph of the police agencies has yielded the following list of agencies that have used Blackwater for training:
1. Iowa Department of Natural Resources
2. Maricopa County, Arizona Sheriff's Department
3. Matthews, North Carolina Police
4. Atlanta Police
5. Chillicothe, Ohio Police
6. Charleston, South Carolina Police
7. Port Chester, NY Police
8. Highland, Indiana Police
9. Unalaska, Alaska Police
10. Metropolitan Washington, DC Police
11. Charlottesville, Virginia Police
Add a comment above