Black Panthers Grateful to Holder For "Payback Time"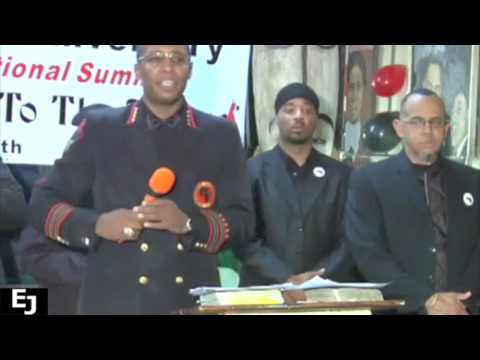 Leaders of the New Black Panther Party express joy in a newly available video that Attorney General Eric Holder tolerated their voter-intimidation activities and dropped a case against them.

In the video below, Malik Shabazz, president of the New Black Panther Party, explains at a NBPP meeting why New Black Panthers were sent to polling places with batons. His comments include some jokes, as when he cracked to members "You know we don't carry batons…. PSYCHE! I'm just playin'." Shabazz goes on to explain that his brother got a pass from the Obama Justice Department because "Justice Department leadership changed into the hands of a black man by the name of Eric Holder." Good to know.


So now it's out in the open; the new black panthers openly thank the racist Holder for backing their voter intimidation. Fore warned is fore armed; I carry anyway; I will just carry bigger and more now.
I really fear that BO is going to cancel the vote in November by presidential decree; due to National Security. That will start the shooting for sure. Problem is, BO now has sole authority to shut down the internet and talk radio due to "national security"; and the Republicans did nothing to stop him. Without the internet and talk radio none of us will know what is going on! Our country is in dire peril right now. I hope the idiots that voted for this administration are happy.




Read more: http://www.washingtonexaminer.com/opinion/blogs/be...
About Me
The Latest From SodaHead
News
Government shutdown or not, there's a new $100 bill in town -- and apparently, people love it!

If Congress doesn't agree on how the U.S. will pay its bills by October 1st, the federal government will shut down. But how concerned is the average American? Not very.
Politics
Ever since President Obama's re-election back in November, the media hasn't stopped reporting about the ruffled course of the Republican party. So who's the future face of the GOP? Find out how the public voted.

New Jersey Governor Chris Christie has been at the center of media coverage for a while now. But more recently, the buzz has been about his proclaimed political party -- and whether or not he should change it.