Auburn University Football Player Among 3 Dead in Pool Party Shooting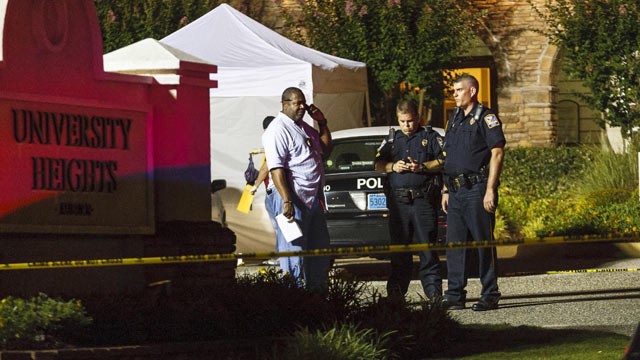 Auburn Police cordon off the scene at
University Heights apartment complex on West Longleaf Drive, early
Sunday, June 10, 2012, in Auburn, Alabama.
(AP Photo/Opelika-Auburn News, Vasha Hunt)

Three people are reportedly dead after someone pulled a gun and began
shooting during a pool party brawl over a woman in an Alabama apartment
complex near Auburn University.


The Auburn Police Department has not identified any of the victims or
their conditions, but according to a family member and tweets from
alumni and local reporters, two football players -- Ladarious Phillips
and Ed Christian -- were shot and killed, while another player, Eric
Mack, remains hospitalized.


Phillips' mother, Jemecia Phillips, told ABC News her son died last
night, but said she didn't know what happened at the party leading to
his death.


Phillips, a 20-year-old fullback, had planned to transfer to Jackson
State University, Jemecia said, adding that she was proud of him.


"He was always helpful," she said.


Birmingham station WTVM reports it confirmed three people are dead, and two more were injured in the shooting.


Auburn Police Chief Tommy Dawson told the Opelika-Auburn News
that officers responded to the complex for multiple gunshot victims,
but declined to comment further. The publication reported that the
coroner -- not the hospital spokesperson -- will be releasing
information about the victims.


The coroner was unavailable for comment when ABC News called.


University Heights Apartments was on lockdown from sometime between
10:00 p.m. and 10:30 p.m. Saturday through 1:20 a.m. today, according to
ABC affiliate WBMA-TV in Birmingham.


Turquorius Vines, 23, told The Associated Press he was at the pool party when he and his friends began arguing over a woman with two men they'd never seen before.


Vines punched one of the strangers and his friend hit them over the head
with a bottle. That was when the strangers -- either one or both of
them -- began shooting.


His friend died at the scene, he said.


No one answered when ABC News called Vines' phone number, but he told the AP that losing his friend was like losing a lung.


"I don't know how I'm going to survive this," he said.