America's Greatest Hero's Vol. 1: A true patriot.
Many people believe John F. Kennedy's assassination, was the first time this government committed murder to keep it's farce of the Federal Reserve Bank actively enslaving humanity; Not so!
Huey Pierce Long, Jr. A Democrat, he was noted for his radical populist policies. Though a backer of Franklin D. Roosevelt in the 1932 presidential election, Long learned secretes that would inspire him to split with Roosevelt in June 1933 and planned to mount his own presidential bid for 1936.
Long was born on August 30, 1893, in Winnfield, the seat of Winn Parish, a small town in the north-central part of the state. Long was a descendant of William Tison and Sarah Vince Tison, daughter of American Revolutionary War soldier Richard Vince. He was the seventh of nine surviving children in a farm-owning middle-class family. He was home-schooled as a young child and later attended local schools, where he was an excellent student and was said to have a photographic memory.
Long briefly attended the University of Oklahoma College of Law in Norman, Oklahoma, and later Tulane University Law School in New Orleans. In 1915 after only a year at Tulane, he convinced a board to let him take the state bar exam. He passed and began private practice in Winnfield. Later, in Shreveport, he spent ten years representing small plaintiffs against large businesses, including workers' compensation cases. He often said proudly that he never took a case against a poor man.
Long expanded state highways, hospitals and educational institutions. His governance has had critics and supporters, debating whether he was a dictator, demagogue or populist. No matter what he's called, his results were for the greater good of the masses, and toward defeating the "new world order" in it's infancy.
Long slashed personal property taxes and reduced utility rates. His repeal of the poll tax in 1935 increased voter registration by 76 percent in one year. Long's popular homestead exemption eliminated personal property taxes for the majority of citizens by exempting properties valued at less than $2,000. His "Debt Moratorium Act" prevented foreclosures by giving people extra time to pay creditors and reclaim property without being forced to pay back-taxes. His personal intervention and strict regulation of the Louisiana banking system prevented bank closures and kept the system solvent, while 4,800 banks nationwide collapsed; Only seven failed in Louisiana.
Long created the Share Our Wealth program in 1934 with the motto "Every Man a King", proposing new wealth redistribution measures in the form of a net asset tax on corporations and individuals to curb the poverty and homelessness endemic nationwide during the Great Depression.

To stimulate the economy, Long advocated federal spending on public works, schools and colleges, and old age pensions. He was an ardent critic of the Federal Reserve System's policies.
Charismatic and immensely popular for his programs and willingness to take forceful action, Long was accused by his opponents of dictatorial tendencies for his near-total control of the state government, which were in fact stringent security measures against a very real threat.
A man of many talents; Long wrote the song "Every Man a King" to accompany his share the wealth program.


He built the state capitol building in Louisiana, noticeably in the likeness of a rebelliously hoisted middle finger, to the powers at be of the day.

Criticized by elaborate C.I.A. smear campaigns, he was threatened with impeachment for the lavish governors mansion he built, and stated; "The old mansion was too good for his predecessors, but not good enough for him."
Long won fame by taking on the powerful Standard Oil Company,

which he sued for unfair business practices. Over the course of his career, Long continued to challenge Standard Oil's influence in state politics and charged the company with exploiting the state's vast oil and gas resources. Of course causing the most powerful and influential tyrant in American history to want him dead in the process. (John D. Rockefeller)
Huey Long was a man for the people, who ironically has been written into history
, by his (And our, common) enemies, as a "Tyrant" a crazed senator turned "dictator", murdered for the "good of the people." (Shame on the sheeple)
Long was a populist who fought the rich people, he was preparing to
challenge FDR's reelection in 1936. Unfortunately, he was encouraged to wait and make a run for president in 1940 when Franklin Roosevelt was expected to retire. However, Long was assassinated in 1935; his national movement was then systematically stomped out of existence.
Long's body was dressed in a tuxedo and his open copper-lined casket was placed in the State Capitol rotunda. An estimated 200,000 people flooded Baton Rouge to witness the event Tens of thousands of Louisianans crowded in front of the Capitol on September 10, 1935, for the 4 p.m. funeral handled by Merle Welsh of Rabenhorst Funeral Home. He was vilified by the media of the day, and the powers at be, but the people were always firmly on his side, even after his murder.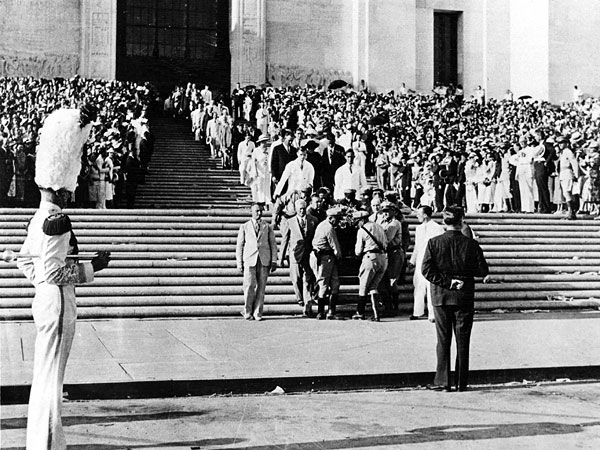 Long's
first autobiography, Every Man a King, was published in 1933, laid out
his plan to redistribute the nation's wealth. His second book, My First
Days in the White House, was published posthumously. In it he laid out
his presidential ambitions for the election of 1936.
Long was buried on the grounds of the new State Capitol, which he championed as governor, where a statue at his grave site now depicts his achievements. Within the Capitol, a plaque still marks the site of the assassination in the hallway near what is now the Speaker's office and what was then the Governor's office. Also, a bronze statue of Long is located in Statuary Hall of the U.S. Capitol.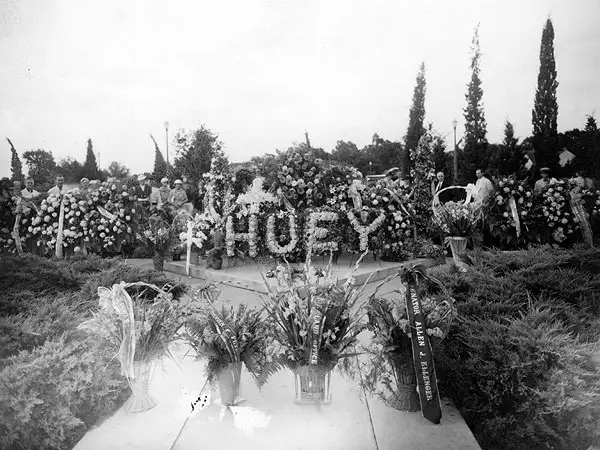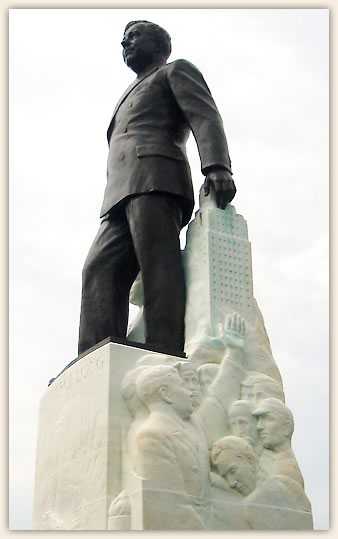 He was smeared heavily by rich and powerful enemies in a time there was even less understanding in the world than there is now. Loved by all who knew him, hated by those who only knew of him..

Accused of doing things that Obama actually is doing! (With seemingly no opposition..) While even people who heard just one of Huey Long's speeches, knew better than to believe the hate campaign propaganda levied against him.

P.S. Huey Long, was STILL not the first time this government murdered to keep / activate the "federal reserve" banking system currently in place.

Read More: http://www.sodahead.com/united-states/american-pro...