American Real Incomes Fall to 1995 Levels, is this the hope and change you wanted?
American Real Incomes Fall to 1995 Levels
~ by Michael Lombardi, MBA

Michael
Lombardi
I have been writing often about the inability of real income to grow enough to ignite consumer spending in the U.S. Real disposable income measures the average American's income after adjusting for inflation (as reported by the government) and taxes.
Seventy percent of GDP growth here in the U.S. is dependant upon consumer spending. It is critical that real disposable income grow in order for consumer spending to take place. With jobs scarce and almost 50% of all Americans on some form of government subsidy, it is hard to imagine how confidence can be created in consumer spending to create GDP growth.
The below chart, based on data from the United States Census Bureau, shows how real median household income is currently at the same level it was back in 1995.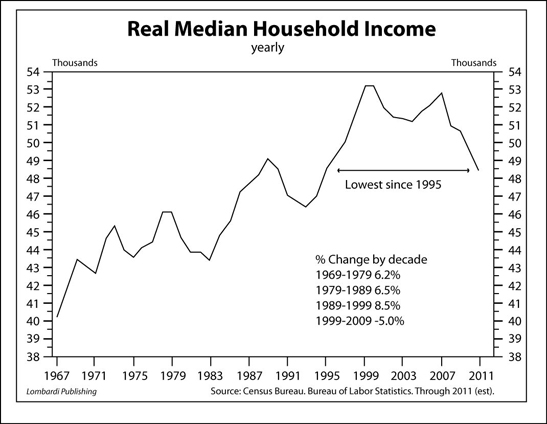 As my dear reader is well aware, costs for education since 1995 have increased by hundreds of percentage points. Commodity prices, despite the recent drop, have risen significantly since 1995, which has increased food costs and the price of goods.
How is consumer spending going to pull the U.S. into an economic recovery with strong GDP growth under these circumstances? What is worse is that, with weak employment growth in the U.S., wages in general have not grown. This is natural, because companies do not feel pressure to raise wages to attract employees when there are so many looking for a job.
The consumer spending growth rate on a year-over-year basis has been less than one percent since the financial crisis hit. (Source: Bureau of Labor Statistics.) This anemic growth coincides with the drop in real median household income since 2008 in the chart above.
This is compounded by the fact that the average consumer is saddled with too much debt. Estimates have consumer debt-to-GDP in the 90% range. That means that for roughly every dollar created, the average consumer has one dollar of debt. For a household, this is too much.
Instead of consumer spending, we have consumers paying down debt. This doesn't add to GDP growth and actually prevents the economy from growing.
With real income at 1995 levels, consumer debt levels too high, and very little in terms of jobs growth, there is no way consumer spending, which represents 70% of the economy, can grow us out of this economic contraction.
With GDP growth sure to fall in the coming quarters, if consumer spending also falls and exports fall due to weak economies in Asia and Europe, then the only other component of GDP growth that can get the economy moving again is government spending. This translates into more government debt, a weaker currency and possibly the Fed needing to buy government debt (i.e. money printing): a vicious cycle getting us nowhere fast.
Add a comment above