Afghan Soldiers: Ungrateful or Confused??!!
I seem to get the impression that the Afghan Security Forces (ASF) can sometimes get confused as to who the enemy is. They mistakenly shoot and kill American soldiers all the time.
Over 57 American dead bodies since the Pentagon started counting. Over 20+ NATO soldiers killed since they were keeping count. (link)



During the 4th of July celebration 5 US soldiers were shot and wounded not by insurgents or terrorists, but by an ASF soldier.

Afghanistan: I am starting to think you're being ungrateful to us. After ALL:


We have U.S. soldiers grow and protect
YOUR OPIUM
, even while we arrest American citizens for it here.
We set up military bases to
protect YOUR borders
even while we neglect our own.
We spend BILLIONS building YOU schools, roads, hospitals, bridges,
etc... while our infrastructure here crumbles.
We hire and train YOUR police officers
(ASF) while laying off cops/cutting benefits for them back home.
We enforce the Rule of Law & the Afghan Constitution
even while we completely IGNORE ours.
We have even cut veterans budgets here, just to increase
YOUR foreign aid allotment.

So what's the problem 'Stan? Are you confused or just ungrateful? Why blow up the embassy twice? We already sent Hillary Clinton (link) to give you more taxpayer money, so what's up with the attitude?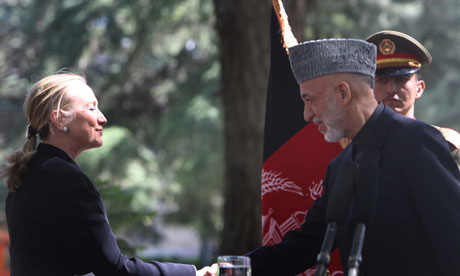 Think you know the answer. Then vote now, comment, reply, share and RAVE!!!


http://online.wsj.com/article/SB10001424052702303962304577511...
http://cnsnews.com/news/article/least-57-us-soldiers-killed-a...
Add a comment above