Affidavit says Zimmerman 'profiled' Martin
Sanford, Florida (CNN) -- An affidavit of probable cause in Florida's case against George Zimmerman for the shooting death of an unarmed 17-year-old says that the neighborhood watch volunteer "profiled" the victim, Trayvon Martin, and disregarded a police dispatcher's request that he await the arrival of police.
The affidavit, which was drawn up Wednesday but not made public until Thursday, was prepared by investigators for the state attorney, who charged Zimmerman with second-degree murder Wednesday.
Zimmerman's relatives say that he did not profile Martin and that he shot him in self-defense. They say Zimmerman killed Martin after the teen punched him and slammed his head on the sidewalk.
One of the responding officers reported seeing a wound on the back of Zimmerman's head, and surveillance video appeared to show an injury.
The affidavit offers little new about what happened on the night of February 26, when Martin was returning to the Sanford house where he was staying after having walked to a nearby convenience store, but it may offer some insight into how the special prosecutor views the case.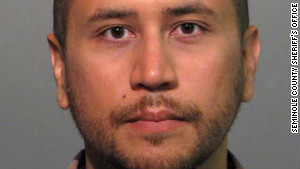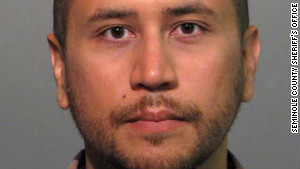 George Zimmerman arrest timeline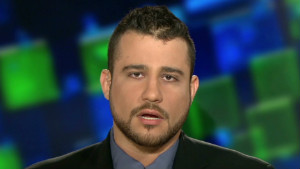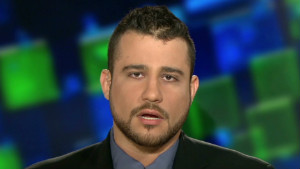 Zimmerman family 'devastated' over charge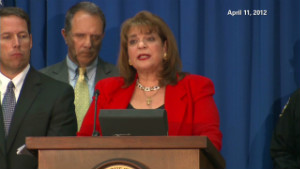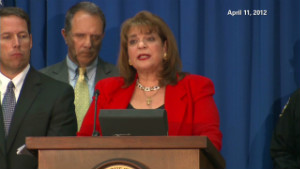 2nd degree murder charge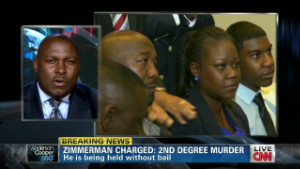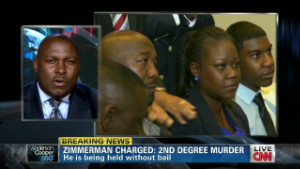 Martin parents 'overtaken by the news'
"Martin then walked back to and entered the gated community and was on his way back to the townhouse where he was living when he was profiled by George Zimmerman," the affidavit says. "Martin was unarmed and was not committing a crime."
It says that Zimmerman, who lived in the same community, was in his vehicle when he saw Martin "and assumed Martin was a criminal. Zimmerman felt Martin did not belong in the gated community and called the police. Zimmerman spoke to the dispatcher and asked for an officer to respond because Zimmerman perceived that Martin was acting suspicious. The police dispatcher informed Zimmerman that an officer was on the way and to wait for the officer.
"During the recorded call Zimmerman made reference to people he felt had committed and gotten away with break-ins in his neighborhood. Later while talking about Martin, Zimmerman stated 'these a**holes, they always get away," and also said 'these f****** punks.' "
As the incident was unfolding, Martin was on the phone with a friend, the affidavit says. "The witness advised that Martin was scared because he was being followed through the complex by an unknown male and didn't know why. Martin attempted to run home but was followed by Zimmerman who didn't want the person he falsely assumed was going to commit a crime to get away before the police arrived. Zimmerman got out of his vehicle and followed Martin. When the police dispatcher realized Zimmerman was pursuing Martin, he instructed Zimmerman not to do that and that the responding officer would meet him. Zimmerman disregarded the police dispatcher and continued to follow Martin who was trying to return to his home.
"Zimmerman confronted Martin and a struggle ensued. Witnesses heard people arguing and what sounded like a struggle."
Calls to 911 captured a voice crying for help; that voice belonged to Martin, according to his mother; the neighborhood watch volunteer's relatives have said the voice was Zimmerman's.
"Zimmerman shot Martin in the chest. When police arrived Zimmerman admitted shooting Martin. Officers recovered a gun from a holster inside Zimmerman's waistband. A fired casing that was recovered at the scene was determined to have been fired from the firearm."
The affidavit says that an autopsy determined that Martin died of the gunshot wound.
Asked Thursday why his client had followed Martin, Zimmerman's lawyer Mark O'Mara told CNN sister network HLN, "I know so little about the evidence."
O'Mara, who began representing Zimmerman on Wednesday, said they had not yet discussed the facts of the case.
Immediately after the shooting, Sanford police questioned Zimmerman and released him without charges. They said then that there were no grounds to disprove his account that he'd acted to protect himself.
The affidavit was released the same day that Zimmerman made his first court appearance Thursday, wearing gray jail coveralls and saying little as his arraignment was set for May 29.
Seminole County Judge Mark Herr, who spoke via a closed-circuit television connection during the four-minute hearing, said all matters including bond and further motions in the case will be handled by Circuit Court Judge Jessica Recksiedler.
O'Mara did not ask that Zimmerman be released on bond, although he had said earlier that he wanted his client released as soon as possible.
He added, however, that Zimmerman's safety could be jeopardized if he were released.
"I think nobody would deny the fact if George Zimmerman is walking down the street today, he would be at risk," he said.
Zimmerman, 28, was in hiding until he turned himself in Wednesday after authorities said he would be charged in the case.
Read More: http://www.cnn.com/2012/04/12/justice/florida-teen...