A prayer for our soldiers
Father God I come to you on behalf of all our soldiers, asking you for your divine protection to be upon them. I thank you for their safety in everything that they do. I believe that you will protect them while they are serving our country. Protect them from the enemy, friendly fire, or accidents of any kind. Protect them from any kind of physical, mental or emotional harm.
Surround them with your presence Lord, guide them, lead them, and direct them in every military operation they may be involved in. I thank you that you will bring them peace of mind in all things. I thank you that you cause their sleep to be peaceful and that they will awaken rested and ready for battle.
I ask you for your traveling mercies to be upon them whether they travel by air, sea or land. Hide them under the shadow of your wings father. I ask you for supernatural wisdom in choices they may have to make in the heat of battle. That they would not accidentally harm any innocents by mistake or because of a rush to judgment. May our soldiers be filled with courage to face the enemy and do what is needed to do.
I thank you for their willingness to put their lives in jeopardy to help a nation become free. Bless our soldiers father for what they are doing and help them maintain peace and security. Cause the civilians hearts of the nation our soldiers are in to be knit to the hearts of our soldiers. Cause the civilians to rise up and help our soldiers stamp out the terrorists who are causing division and fear.
Help our soldiers with supernatural wisdom to find out about attacks before they happen. Reveal the names of those who are involved so that action may be taken against them to prevent it from happening. May the civilians and soldiers work together and regard and esteem each other as valuable and precious. Help the soldiers and civilians be at peace with one another. I pray that no soldiers actions would cause anger in the hearts of the civilians and that the civilians would be appreciative of what our soldiers are doing in their country.
Father I also ask you to send people that are prepared to speak to the soldiers on your behalf. Give these people the words that will cause change to come to the soldiers hearts and minds, so that they may come to know you in an intimate way. I pray that the soldiers would receive the words that your representatives have to say with gladness. Let our soldiers see the love they have for you and cause our soldiers to want what they have in their lives.
Father keep our brothers and sisters in the military strong in their faith as they face the horrors or war. Let them be salt that they are called to be to their brothers in arms. Let them be that light upon the hill so that other soldiers can see the difference you make in their lives. Hide our brothers and sisters in the safety of the shadow of your wings. Continue to show yourself strong on their behalf for you are their fortress, their shelter and strong tower that they can run to when they are in need.
Provide everything they need, and never let miscommunication be the cause of any deaths of our soldiers father. Bring peace and comfort to soldiers who may have lost their friends in battle. Be with them and strengthen them physically, emotionally and mentally. Also let those whose time has come to have had a chance to come to know you before their time has come. I thank you that you hear my prayer and that it will be done because I ask you in faith believing you will do what I have asked of you. Thank you Lord for all that you have done and are about to do on the behalf of our soldiers.
In Jesus' name, Amen.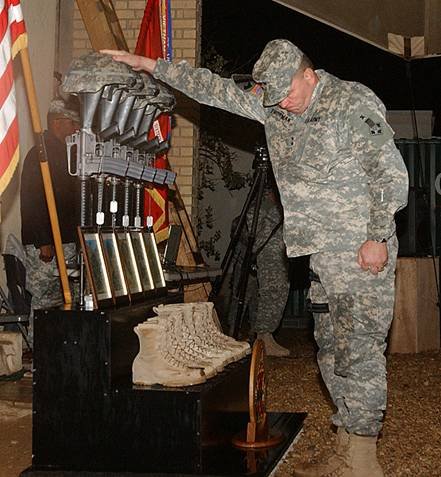 About Me
The Latest From SodaHead
News
Government shutdown or not, there's a new $100 bill in town -- and apparently, people love it!

If Congress doesn't agree on how the U.S. will pay its bills by October 1st, the federal government will shut down. But how concerned is the average American? Not very.
Politics
Ever since President Obama's re-election back in November, the media hasn't stopped reporting about the ruffled course of the Republican party. So who's the future face of the GOP? Find out how the public voted.

New Jersey Governor Chris Christie has been at the center of media coverage for a while now. But more recently, the buzz has been about his proclaimed political party -- and whether or not he should change it.