27th President
WILLIAM HOWARD TAFT 1909-1913
Distinguished jurist, effective administrator, but poor politician, William Howard Taft spent four uncomfortable years in the White House. Large, jovial, conscientious, he was caught in the intense battles between Progressives and conservatives, and got scant credit for the achievements of his administration.
Born in 1857, the son of a distinguished judge, he graduated from Yale, and returned to Cincinnati to study and practice law. He rose in politics through Republican judiciary appointments, through his own competence and availability, and because, as he once wrote facetiously, he always had his "plate the right side up when offices were falling."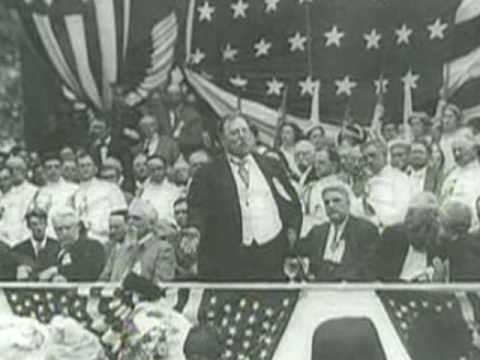 But Taft much preferred law to politics. He was appointed a Federal circuit judge at 34. He aspired to be a member of the Supreme Court, but his wife, Helen Herron Taft, held other ambitions for him.
His route to the White House was via administrative posts. President McKinley sent him to the Philippines in 1900 as chief civil administrator. Sympathetic toward the Filipinos, he improved the economy, built roads and schools, and gave the people at least some participation in government.
President Roosevelt made him Secretary of War, and by 1907 had decided that Taft should be his successor. The Republican Convention nominated him the next year.
Taft disliked the campaign--"one of the most uncomfortable four months of my life." But he pledged his loyalty to the Roosevelt program, popular in the West, while his brother Charles reassured eastern Republicans. William Jennings Bryan, running on the Democratic ticket for a third time, complained that he was having to oppose two candidates, a western progressive Taft and an eastern conservative Taft.
Progressives were pleased with Taft's election. "Roosevelt has cut enough hay," they said; "Taft is the man to put it into the barn." Conservatives were delighted to be rid of Roosevelt--the "mad messiah."
Taft recognized that his techniques would differ from those of his predecessor. Unlike Roosevelt, Taft did not believe in the stretching of Presidential powers. He once commented that Roosevelt "ought more often to have admitted the legal way of reaching the same ends."
Taft alienated many liberal Republicans who later formed the Progressive Party, by defending the Payne-Aldrich Act which unexpectedly continued high tariff rates. A trade agreement with Canada, which Taft pushed through Congress, would have pleased eastern advocates of a low tariff, but the Canadians rejected it. He further antagonized Progressives by upholding his Secretary of the Interior, accused of failing to carry out Roosevelt's conservation policies.
In the angry Progressive onslaught against him, little attention was paid to the fact that his administration initiated 80 antitrust suits and that Congress submitted to the states amendments for a Federal income tax and the direct election of Senators. A postal savings system was established, and the Interstate Commerce Commission was directed to set railroad rates.
In 1912, when the Republicans renominated Taft, Roosevelt bolted the party to lead the Progressives, thus guaranteeing the election of Woodrow Wilson.
Taft, free of the Presidency, served as Professor of Law at Yale until President Harding made him Chief Justice of the United States, a position he held until just before his death in 1930. To Taft, the appointment was his greatest honor; he wrote: "I don't remember that I ever was President."
------------
Abolishment of war throughout the world.
2 minutes, 30 seconds
RealAudio
http://www.lib.msu.edu/vincent/ra/taft.ram

MP3
http://www.lib.msu.edu/services/dmc/vincent/presidents/mp3/ta...
--------------
http://www.arlingtoncemetery.net/whtaft.htm

During his long government career, he served as Governor of the Philippines, Secretary of War, President of the United States and Chief Justice of the United States Supreme Court. He is the only man in U.S. history to have been both President and Chief Justice.
He was a large man, six-feet tall and weighing more than 300 pounds. He retired from the Court on February 3, 1930, due to ill health, and died five weeks later on March 8, 1930. His wife, Helen Harron Taft, was responsible for the stone on their gravesite, Stoney Creek Granite, 14.5 feet tall, sculpted by James Earl Frazer, it is in the Greek Stele motif. Helen Harron Taft died at home in Washington, D.C. on May 22, 1943, at the age of 83. She was the first first-lady to be buried in Arlington.
He and his wife are buried in a Special Gravesite in Section 30 of Arlington National Cemetery. He was the first of only two Presidents to be buried in Arlington.
==
http://www.nps.gov/history/nr/twhp/wwwlps/lessons/15taft/15ta...
While Taft was in the Philippines, he was asked by President Roosevelt to fill a vacancy on the Supreme Court. He sacrificed his dream in order to finish his work with the people he had grown to love. The Supreme Court offer was repeated a few years later when Taft was secretary of war. Again he declined. Then, President Roosevelt endorsed Taft as his successor. "My ambition is to become a justice of the Supreme Court," Taft wrote his brother in 1905. "I presume, however, there are very few men who would refuse to accept the Republican nomination for the presidency, and I am not an exception." Besides, Helen Taft, often referred to as "Nellie," wanted her husband in the White House. He received the nomination for president in 1908 and won the November election.
The accomplishments of the Taft administration are still a part of American life. He backed the constitutional amendment providing for an income tax, worked within a budget, strengthened the Interstate Commerce Commission to better regulate transportation and control railroad rates, brought dozens of antitrust suits, appointed six Supreme Court justices, and signed legislation admitting New Mexico and Arizona into the union as the 47th and 48th states. He inaugurated the presidential tradition of throwing out the first baseball of the season.
Taft's presidential achievements were obscured by his lack of broad-based support. In the view of Progressives, who had expected a continuation of Roosevelt's policies, he was paralyzed with inertia. With one eye always on the law, he was too cautious to expand his presidential power in the manner of his predecessor. Old guard Republicans, happily rid of Roosevelt, bristled at what they viewed as continuing threats to the free market–the dismantling of monopolies, artificially low railroad rates, and the notion that one's hard-earned money belonged, in part, to the government. Although his party renominated him in 1912, his mentor, Theodore Roosevelt, was furious that Taft had moved timidly on his Progressive agenda. Roosevelt headed the ticket for the Bull Moose (Progressive) Party, splitting the Republican vote and ensuring victory for Democrat Woodrow Wilson.
Lifelong devotion to his alma mater took Taft back to Yale where he taught constitutional law for eight years. A third chance at the Supreme Court came his way when President Warren G. Harding had court vacancies to fill. This time there was no burden of unfinished duty to keep Taft from accepting. In 1921 he was named 10th chief justice of the United States.
The first problem he encountered was one of sheer volume. The court was bound to accept any case involving a federal point of law. By the 1920s claims arising from the First World War, income tax laws, and prohibition generated an overwhelming backlog. The Judiciary Act of 1925, backed by Taft, allowed the high court to choose cases based on merit. This paved the way for more judicial reforms. Taft had backed the income tax as president and continued to do so as chief justice. His court upheld prohibition laws and efforts to convict bootleggers, affirmed presidential power to remove appointees, and strengthened the Interstate Commerce Commission as well as the Federal Government in general. "While Taft presided as chief justice, and was often accused of conservatism," explains Taft's biographer Henry F Pringle, "there occurred a steady redistribution of the wealth of the United States." Taft rallied support for a new building for the Supreme Court–a solemn neoclassical structure completed in 1932–giving the judicial branch of the government symbolic parity with the executive and legislative branches.
In February 1930 Taft resigned his post because of illness. A month later he died at age 72. That day President Herbert Hoover articulated the country's sense of loss when he declared, "Mr. Taft's service to our country has been of rare distinction and was marked by purity of patriotism, a lofty disinterestedness, and a devotion to the best interests of the nation." William Howard Taft was buried in Arlington National Cemetery.
http://www.presidentsusa.net/taft.html
http://www.geocities.com/presfacts/taft.html

Taft is the only President to also serve as Chief Justice in the Supreme Court.
Taft was the first president to throw the first baseball of a season.
He was the first president to own a car. He had the stables converted into a four-car garage.
William H. Taft is one of two presidents who is buried in the Arlington National Cemetary.
Taft was the last president to have facial hair.
He called the White House "the loneliest place in the world."
His funeral was the first to be broadcast on the radio.
Taft was our heaviest president, weighing 332 pounds. He once got stuck in the White House bath tub, so a new one was installed, big enough to hold four grown men!
William Howard Taft was a seventh cousin twice removed of Richard Nixon and a distant relative of Ralph Waldo Emerson.
Taft was tone deaf. Taft needed to be nudged when anyone was playing the national anthem because he was tone deaf.
Taft's nickname in high school was "big lub."
Taft never wanted to be president. He wanted to be the Chief Justice of the Supreme Court, but his wife wanted to be the first lady. She talked him into running for office. He finally got his wish in 1920 when he was appointed Chief Justice.
Taft fractured his skull in a carriage accident at age 9.
Taft kept a cow on the White House lawn to supply him with fresh milk. He was the last president to do so.
His middle name was after his grandmother, Sylvia Howard.