10 year old Child ran over by Car
WARNING GRAPHIC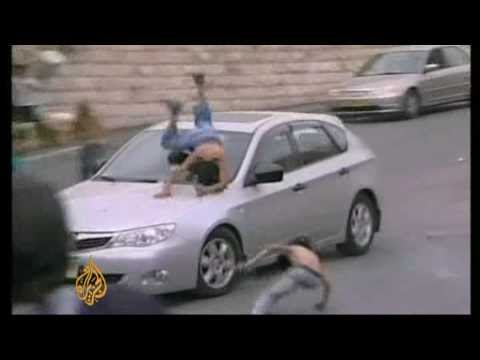 As i opened one of the news sites a frequently visit, i was shocked by a video showing Palestinian boys getting run over by an Israeli activist.
The story is that as the man, David Be'eri who is the leader of Elad, an Israeli settler organization, was going through an Arab neighborhood when two boys , aged 11 and 10 took up a few rocks and threw it at the car. This man then thought fit to ram his car full speed into the younger of the two boys then driving away after a brief pause. He was arrested later and put under "investigation" by the Israeli Police. Do you really expect him to be judged fairly for his actions considering his status and value to Israel? Does being the target of "thrown rocks" justify ramming a child?
Consider that this man is responsible for making hundreds of Palestinians homeless.
Original Article here:
http://english.aljazeera.net/video/middleeast/2010/10/2010108...
Sources: Al-Jazeera.net
Was the ramming justified?
Add a comment above