likes & interests
About Me
I'm an artist, gay, very stubborn, proud, as well as strong-willed. You can find out more about me by just looking around on my profile!
My Political Views
I am a center-left social authoritarian
Left: 2.85, Authoritarian: 4.39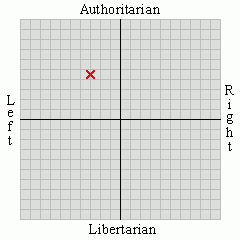 Political Spectrum Quiz
My Foreign Policy Views
Score: 3.9

Political Spectrum Quiz
My Culture War Stance
Score: -0.28
Political Spectrum Quiz
I'd like to meet
Many people, but don't feel like naming all of them.
Activities
Video Games, Writing, Cooking, Singing, Sculpture, Painting, Drawing
Interests
Art, Playing Video Games, Animals, History, War History
Favorite Music
Cast in Bronze, Matt Toka, Blood on the Dance Floor, Louis Armstrong, Frank Sinatra, Poison, Tony Bennett, Niki Minaj, Katty Perry, Por Ti Volare, O Fortuna, Lady Gaga, Journey, Globus, Queen, Avenged Sevenfold, Evanescence, Hip hop music, Country music, Opera, Rock Music, Pop, Classical, Techno, Anything That Sounds Good
Favorite TV Shows
anime yaoi, YAOI, The Voice, The Apprentice, America's Got Talent, Opening Act, Impractical Jokers, G4TV, UFC: Ultimate Fighting Championship, Tosh.0, Attack of the Show, The Soup, X-Play, The Walking Dead, Bleach, Pawn Stars on History, Auction Kings, Whose Line Is It Anyway?, Law & Order: Criminal Intent, Law & Order, Avatar: The Last Airbender, SpongeBob SquarePants, Law & Order: Special Victims Unit, Dragon Ball Z, Judge Judy, NYPD Blue, The Ultimate Fighter, Cold Case, NCIS, CSI: Miami, CSI: NY, Deadliest Warrior, Anime, Animal Planet, Discovery Channel
Favorite Movies
Eating Out: The Films, Yaoi, Yaoi, -:: Yaoi ::-, Yaoi 矢おい, Phi Brain: Kami no Puzzle (ファイ・ブレイン ~神のパズル), Yaoi Fanz Page Indonesia, Yaoi, Anime yaoi, YURI & YAOI >///<, Yaoi Lover, Hulk, Saw, Epic Movie, Hellraiser, Friday the 13th, Halloween, A Nightmare on Elm Street, Spider-Man, Ghost Rider, X-Men Movies, Ghostbusters, Captain America, Thor, Fantastic 4, Avatar, The Incredible Hulk, Iron Man, Taken, Jaws, Date Movie, Predator, Old Dogs, Freddy vs. Jason, Clash of the Titans, Alien, Beverly Hills Ninja, Transformers, 28 Days Later, Epic Movie, Night at the Museum, Night of the Living Dead
Favorite Books
Naruto Yaoi, Death Note hard yaoi, Yaoi ><", Yaoi (shonen-ai), Sex Pistols Yaoi, Yaoi Lovers, MANGA Smut (+Yaoi), Yaoi, SASUNARU YAOI, BIGBANG YAOI, Of Mice and Men, Comics, Starwars, Beowulf, Horror film, Star Trek Novels, The Knights Templar
Favorite Quotes
I have my own quotes.
Favorite Heroes
I have many hero's I look up to in real life. I also like the fictional hero's as well from Marvel Comics and some from D.C. Comics.
Areas of Interest
Spyro's activity, per category
info
Spyro

Male

WV, US

2012/09/16 19:34:31

7 hours ago

20

In a relationship

Gay/Lesbian

Scorpio

Expressing Myself

High School Graduate

Part-Time

Retail

$0 - $25k

No

No

Atheist

No thank you

Other

White/Caucasian

Average

5 feet 7 inches
photos & videos