Be yourself, let you come through.
likes & interests
About Me
My name is Melody.
I love to travel, paint, cook, and learn.
_♥_♥___♥_♥_ Put this
♥___♥_♥___♥ Heart on your
_♥___♥___♥_ Page if
__♥_____♥__ You love
___♥___♥___ Someone ♥
____♥_♥____
_____♥_____
My Political Views
I am a centrist social libertarian
Right: 0.55, Libertarian: 6.66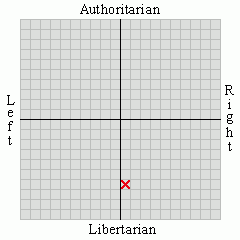 Political Spectrum Quiz
I'd like to meet
Jonathan Davis
RIP Bradley Nowell.
Activities
Driving, playing video games, talking about anything.
Interests
Music and different opinions.
Favorite Music
Sublime, Korn, A Perfect Circle, Red Hot Chili Peppers, Death Cab for Cutie, Deftones, Radiohead
Favorite TV Shows
Bones, Frasier
Favorite Movies
Step Brothers, One Hour Photo, the Illusionist
Favorite Books
The Book of General Ignorance, The Time Travelers Wife, Tuck Everlasting
Favorite Quotes
After my house burned down, I saw the moon more clearly.
Life is one big question when you're staring at the clock- Bradley Nowell (40.Oz. to Freedom)
Oh, what fun it would be to blow my mind and fall into the sun. A mind is a precious thing to taste.- Bradley Nowell (New Realization)
Real friends stab you in the front- Jonathan Davis
Favorite Heroes
No heroes.
Areas of Interest
smileyseven's activity, per category
info
smileyseven

Female

Napa, CA, US

2009/06/12 00:43:22

2012/12/16 04:15:56

May 22

In a relationship

Bi

Gemini

Expressing Myself

High School Graduate

Full-Time

Healthcare

Yes

No

Atheist

Undecided

Libertarian

White/Caucasian

Average

5 feet 5 inches
photos & videos