Who can kill he who cannot be killed?
likes & interests
About Me
****PRIVACY NOTICE: Warning--any person and/or institution and/or Agent and/or Agency of any governmental structure including but not limited to the United States Federal Government also using or monitoring/using this website or any of its associated websites, you do NOT have my permission to utilize any of my profile information nor any of the content contained herein including, but not limited to my photos, and/ or the comments made about my photo's or any other "picture" art posted on my profile. You are hereby notified that you are strictly prohibited from disclosing, copying, distributing, disseminating, or taking any other action against me with regard to this profile and the contents herein. The foregoing prohibitions also apply to your employee(s), agent(s), student(s) or any personnel under your direction or control. The contents of this profile are private and legally privileged and confidential information, and the violation of my personal privacy is punishable by law.
My Political Views
I am a center-left moderate social libertarian
Left: 1.33, Libertarian: 2.72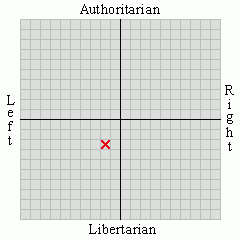 Political Spectrum Quiz
Hey Everyone!!! I'm Cameron. But my brother calls me Pewds. Because he's weird. I'm a psychotic, neurotic, crazy, insane sort of guy. I'm pretty weird. But I'm really open. Ask me anything, I'll probably tell you. I've got really low self esteem. Being 100% honest I don't really see any worth when I look at myself. I'm lonely but it's obvious why (look at me :c). My favorite band is Green Day. I have heard every one of their songs and have all of them on my iPod because it's like all I listen to :P I live in Las Vegas, Nevada, as I have since late 2011. Before that I lived in Winter Springs, Florida for 3 months. Before that I lived in San Antonio, Texas for 6 months. And BEFORE THAT, I lived in Bellingham, Washington, from the time I was born. I was born in Seattle, Washington, 3 months early. I have ADD and ADHD. I was accustomed to being the smartest kid in my class, until I started high school as a magnet student(a leadership and law prepatory academy). Well now there are many others smarter than me. Life has been full of challenges. So I'm going to grab the fish by the horns and wrestle it into submission.
I took a What Fairy Tale are You quiz and hey it was actually pretty accurate O.o
You Are The Little Mermaid
You find it hard to be satisfied with the life you were given. You feel like there is something bigger out there.
You know what you want, even if you don't go for it right away. You tend to long for people and things.
You are a true romantic and idealist. You get lovesick easily, and you've had your fair share of heartbreak.
Even so, you would give up a lot for love. Love is the most important thing in your life.
I'd like to meet
Green Day- Billie Joe Armstrong, Tre Cool, Mike Dirnt, Jason White
Green Day is my favorite band. It has been since I was little. As far back as I can remember :P

Neil Patrick Harris-
This guy. This guy right here. He is awesome.

Courtney-
She's awesome! Seriously. Don't believe me? Try talking to her. She OOZES awesomeness. xD Lol but she should get on Sodahead more often we barely talk anymore! D:

Chloe-
This girl is FUCKING CRAZY. xD Seriously she's like the funniest person ever. I get up every morning and check Sodahead and I will have a crapload of messages from her. I wake my whole house up on a regular basis early in the morning from laughing at her messages. BUTBUTBUT watch out. Chloe's stubborn as a bull and pretty much always wins an argument. And she's not afraid to choke a bitch. xD
Activities
Minecraft.
Lots of Minecraft.
Super Scribblenauts.
Warioware D.I.Y.
Listening to music
More Minecraft
SodaHead! I'm freaking ADDICTED! :D
Interests
Music is a big part of my life. I can't go very long without it. I love Minecraft. I've been playing since the original release in 2009. I have watched the game progress and IT'S GREAT.
Favorite Music
Green Day, The Beatles, Metallica, Iron Maiden, lololol I could keep going.
Favorite TV Shows
how i met your mother, Doctor Who
Favorite Movies
Yellow Submarine, Riding in Vans With Boys, Heart Like a Handgrenade
Favorite Books
Stephen King's Dark Tower books, Hearts in Atlantis, Stephen King in general.
Favorite Quotes
"There is no reward for goodness; there is no respite for faith; there is nothing but cold steel teeth and scourging fire for all of us. And it's coming for you now." -Unknown

"Punk is not just the sound, the music. Punk is a life-style. There are a lot of bands around who claim to be punk and they only play the music, they have no clue what it's all about. It's a life-style I chose for myself." -Billie Joe Armstrong

"It's my fucking life and - you know what? - nobody invited you... so there's the door."
-Billie Joe Armstrong

"No one's really happy anyway, it's not human."
-Billie Joe Armstrong
Favorite Heroes
My brother, Trevor(Cry)-
I don't think he realizes it, but he is one of the only reasons I'm still living right now. This guy has gotten me through probably the hardest times in my life. He's always there for me, night or day if I have a problem. And I'm always there for him. Because he's my bro! :P

Green Day
My parents
Uhhh Batman?
60's Spiderman :P
info
Sodahead User

Male

NV, US

2012/07/25 05:28:12

2013/04/03 01:01:50

19

Taurus

5 feet 8 inches
photos & videos