likes & interests
About Me
I like to think I'm nice, but I'm not friendly or outgoing. Don't expect me to be. I'm not a very serious person.
My Political Views
I am a right social libertarian
Right: 3.81, Libertarian: 9.74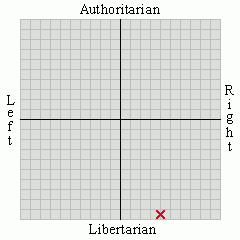 Political Spectrum Quiz
I'd like to meet
Hunter S. Thompson
Activities
Reading, listening to music, internet, writing
Interests
Music, movies, literature, food, tv
Favorite Music
I like a lot of 90s alternative/rock music. My favorite band is The Smashing Pumpkins and I prefer softer music.
Favorite TV Shows
The Walking Dead, Breaking Bad, Sons of Anarchy
Favorite Movies
Leon, What's Eating Gilbert Grape, Natural Born Killers, Fargo, Heathers, Trainspotting, Boondock Saints, True Romance, Fight Club, Benny and Joon, The Lion King, My Own Private Idaho, Reservoir Dogs, Wristcutters: A Love Story
Favorite Books
One Flew Over the Cuckoo's Nest, Of Mice and Men, Fear and Loathing in Las Vegas, The Rum Diary, Jane Eyre, The Bell Jar, The Hitchhiker's Guide to the Galaxy, Fahrenheit 451, The Diving Bell and the Butterfly
info
MyDaydream90

Female

NC, US

2012/06/14 21:20:10

2015/06/05 09:15:04

26

Single

Straight

Taurus

Expressing Myself

College Graduate

Full-Time

Other

No

Yes

Libertarian

White/Caucasian

Average

5 feet 2 inches
photos & videos