likes & interests
About Me
I like to think I'm nice, but I'm not friendly or outgoing. Don't expect me to be. I'm not a very serious person.
My Political Views
I am a right social libertarian
Right: 3.81, Libertarian: 9.74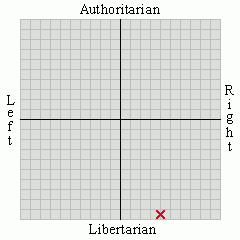 Political Spectrum Quiz
I'd like to meet
Hunter S. Thompson, Allen Ginsberg, Norman Reedus, Sean Patrick Flanery, Johnny Depp.
Activities
Reading, listening to music, internet, writing
Interests
Music, movies, literature, food, tv
Favorite Music
The Smashing Pumpkins, Sonic Youth, Pixies, Nirvana, The Rolling Stones, The Doors, The Beatles
Favorite TV Shows
The Walking Dead, Breaking Bad, Sons of Anarchy
Favorite Movies
The Boondock Saints, Fight Club, Fear and Loathing in Las Vegas, Natural Born Killers, True Romance, Reservoir Dogs
Favorite Books
One Flew Over the Cuckoo's Nest, On The Road, Fear and Loathing in Las Vegas, The Rum Diary, The Great Gatsby, Jane Eyre
Favorite Quotes
"The only people for me are the mad ones, the ones who are mad to live, mad to talk, mad to be saved, desirous of everything at the same time, the ones who never yawn or say a commonplace thing, but burn, burn, burn, like fabulous yellow roman candles exploding like spiders across the stars and in the middle you see the blue centerlight pop and everybody goes "Awww!" ~Sal Paradise
Areas of Interest
MyDaydream90's activity, per category
info
MyDaydream90

Female

NC, US

2012/06/14 21:20:10

2014/04/06 21:26:47

23

Single

Straight

Taurus

College Graduate

Full-Time

Other

No

Yes

Libertarian

5 feet 2 inches
photos & videos