Would You Quit Facebook for $200?
Which would you like more: your Facebook account or some cold, hard cash? A 14-year-old in Massachusetts went with the latter! Rachel Baier agreed to receive $200 from her dad in exchange for deactivating her Facebook account from now until the rest of the school year, which is about five months. In fact, the whole thing was her idea!
"She approached me. She has been frustrated she hasn't been able to find a babysitting job and she has been looking for ways to get cash," Paul Baier told ABC News. "So she asked, 'If I didn't use Facebook for so long would you pay me?'" The father apparently agreed, knowing that she spent hours on the social networking site when she could be doing more productive things.
This quirky news leads us to a similar inquiry: Would you quit Facebook if someone gave you money to do so?

ABCNEWS.GO.COM reports:

A dad is paying his 14-year old daughter to quit Facebook for six months.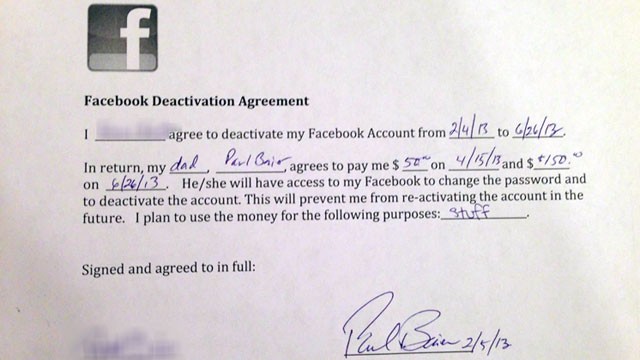 Read More: http://abcnews.go.com/Technology/father-daughter-2...
Add a comment above