Would You Let Your Teen Become A Werewolf?
Blame it on the "Twilight effect." Or maybe just a really slow news day in San Antonio. An adorable local newscast in the city recently uncovered the latest clique trend among high school outcasts looking to mark their rebel territory: teen werewolves.
Prone to wearing animal fur tails hanging out of their skinny jeans, wearing molded fangs, sporting dog-like spooky contacts and tethering dog collars attached to chains around their necks, the gentle members of the "Wolf Pack" claim they're not part of some attention-seeking gang. "We're not a gang at all," said one member. "Gangs are poseurs. They just want attention … The Pack? We're a family. We go to each other for our problems."
More than six packs have popped up around the city and one member, "alpha dog" 18-year-old Wolfie Blackheart, made international news recently when the skull of a neighbor's missing dog ended up in his possession.
The get together at midnight under the full moon (when their parents allow them to go out that late), hang out at the mall (where they get their eyeliner) and swear they're just normal teens who are just trying to live their lives. Jeez!
Officials say they tend to keep to themselves and don't' cause any problems and one mom said as long as her little wolfie takes out his fangs and fake lenses and remembers to put the garbage out on Thursday night, she's fine with it.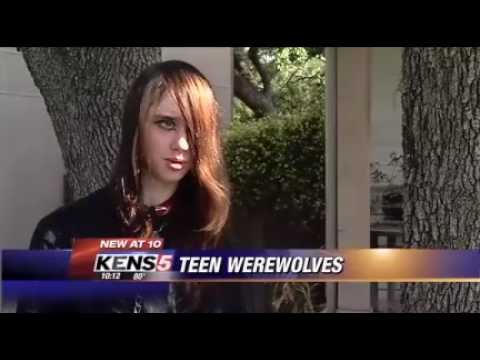 Add a comment above