Would You Eat Squirrel?
Though squirrel has long been absent on North American menus, it was once a staple ingredient in several local cuisines, like Kentucky burgoo, and some backyard hunters are still fond of the
strange meat
.
That's why CNN's Eatocracy is calling squirrel the "chicken of the trees."
"Awwwwww!" you might coo. "But they're so adorable and sweet and and how could you be so very cruel as to eat the precious Disney fluffy-wuffy?"

Yup – they're all just darling until the day when you walk into your kitchen to find that one has gnawed through your window screen to make himself a snack of your tortillas. He's just there, lounging about on your table all bushy-tailed and cavalier until he spots you...and snarls...and then everything is a blur of tortillas and mange and horror.

There are plenty of squirrels in the world. You can stand to eat a few.
And because we know you're wondering just how much meat is on a squirrel, here's an appetizing snapshot of some fresh-out-the-tree squirrel meat.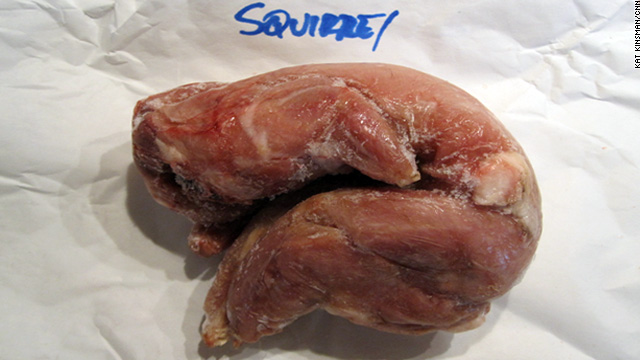 Yum?
Read More: http://eatocracy.cnn.com/2011/05/20/give-squirrel-...
Add a comment above